NWSABR 2-19-11 Meeting Recap
Written by Mary Groebner
The Northwest Chapter of SABR met on Saturday February 19, 2011 from noon to 5pm at the Hillsdale library in Portland. Twenty-five members and guests were in attendance.
Chapter president John Henshell announced that Rick Solomon has agreed to serve as Vice President.
After introductions, member John Simpson made a presentation about his third published book, "The Greatest Game Ever Played in Dixie". It's about the Nashville Vols 1908 season and championship game. While working on his book about Edith Pope, John encountered an article written by Grantland Rice about the Vols championship game. Rice's quote spurred John's interest and became the title of his third book.
The book begins with the last games of the 1907 season, and continues through the championship game of the 1908 season and beyond, as the last chapter notes what later happened to the players of the Vols. John also discussed the Southern Association, owners, stadiums, and teams within the league. Research included accounts from three local newspapers, the Sporting News and Sporting Life, and interview. John shared many interesting photos from his book.
The Vols played were managed by Bill Bernhard, who John didn't feel ever got his due. Bernhard was one of the earliest foes of the reserve clause and a close friend of Napolean Lajoie. The Vols played in a unique ballpark named Sulphur Dell; it was only 265 feet to the RF wall, but the last 40 feet of that rose at an incline and the city dump was on the other side of the wall. The field was reversed in 1927, moving homeplate out to where center field had been, and then finally torn down in 1963. It was extremely hard to play RF, but Doc Wiseman played it so well that one of his nicknames was "The Goat.". As part of his research, John was able to locate three of Wiseman's children and spent eight hours with them, listening to their memories and also sharing stories that he had uncovered during his research. This was a special experience for John and the Wisemans.
Last Updated on Monday, 16 May 2011 16:36
Read more...
Changes for Members Dave Eskenazi and Rob Neyer
Written by Mary Groebner
We have a couple of items of member news.

Chapter member Dave Eskenazi is now writing a regular column for Sportspress Northwest, the new Web site started by Art Thiel and Steve Rudman. Read Dave's bio at the site for more info.

Chapter member Rob Neyer has left ESPN and is now blogging for SB Nation. Read Rob's opening article at the site for more info.

NWSABR Booth at 2011 Mariners FanFest
Written by Mary Groebner
Mariners FanFest 2011 took place at Safeco Field in Seattle on Jan 29-30. Jan 29 was also National SABR day.

The Northwest Chapter of SABR once again staffed an informational booth at FanFest, handing out baseball cards to kids and conversing with adults about the mission of SABR and local chapter activities.

Volunteers staffed the booth, which was located on the main concourse near third base, from 8:30am to 4:00pm Saturday and from 11:00am to 4:00pm Sunday. We don't have a total count of how many individuals stopped by, or how many baseball cards we distributed, but 29 people signed up and requested more information about the organization.
NWSABR member Dave Eskenazi set up a display of historical Seattle baseball photos, which was very popular with fans, near the Dave Niehaus memorial.
Thanks to the Mariners, former chapter president/current treasurer Tim Herlich for dealing with the logistics of booth setup and volunteer coordination, Dave Eskenazi for once again sharing his amazing collection, and to the volunteers: Bill Woodward, Chuck de Grasse, Herm Gilman, John Henshell, Mark Brunke, Bob Webster, Stan Opdyke, Stephanie Hall, Tim Herlich, and Tim Jenkins. Special thanks to those who staffed the booth during the NWSABR chapter meeting!
NWSABR 1-29-11 Meeting Recap
Written by Mary Groebner
The Northwest Regional Chapter of SABR (NWSABR) met on Saturday January 29, 2011 from noon to 3pm at the Ellis Pavillion at Safeco Field in Seattle. Our meeting was part of the Mariners FanFest 2011, a weekend event. About 35 members and guest attended. NWSABR also staffed an informational booth for FanFest (see separate recap).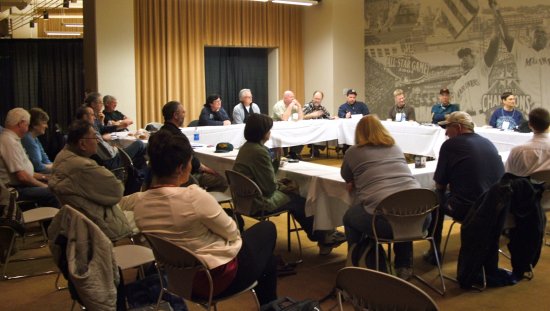 We thank Kevin Martinez (Vice-President of Marketing) and the Seattle Mariners for providing an excellent facility and an incredible lineup of speakers.

Speakers were: Special Assistant to the GM Tony Blengino, GM Jack Zdurenciek, Assistant GM Jeff Kingston, Director of Player Development Pedro Grifol, and Manager Eric Wedge.
Chapter president John Henshell opened the meeting by thanking the Mariners and former chapter president Tim Herlich for his work in coordinating the FanFest booth and meeting. John said we still need a Washington-based chapter vice-president and encouraged members who were interested to contact him.He gave a summary of the agenda for the February meeting in Portland and introduced a new program: member-host-a-member. Because NWSABR is the chapter for a very large geographical area, meetings are typically held in Portland, OR (Feb), Seattle, WA (Jan, May, Nov), and Vancouver B.C. (Aug). John encourages members to offer spare bedrooms or couches to out-of-town members.
Our first speaker was Tony Blengino, who spoke briefly and then took questions for almost an hour. Tony is a longtime SABR member and a member of the NWSABR chapter. Tony noted that from 1993-2002 he believed he gave a member research presentation at every chapter meeting; this was before he "got into baseball." Questions asked by meeting attendees focused on the performance of last year's team and expectations/marketing, and the expectations for the team and specific players for 2011.
Expectations were very high for the 2010 Mariners, but the front-office never really felt comfortable with those expectations. After the season, Tony reviewed work done by Tom Tango (who consults for the Mariners) and could not find another team where every position player had performed lower than expectations (sometimes significantly lower). Just "regressing to the mean" for 2011 would produce better results. Last year, the Mariners underperformed offensively and were inefficient at driving in runners. He hopes that players new to the team and an increased focus on fundamentals such as plate discipline and situational hitting will result in the team scoring about 150 more runs than they did last year.
Tony encouraged fans to "hang with us" after such a dismal season. He recalled going through a similar experience in Milwaukee around 2000 when that team was coming off of a 100-loss season and had few minor-league prospects. They spent 2002-2003 rebuilding the minors. He used the analogy of building a house – 80% of the work is not seen, people are driving by and looking at a big hole in the ground or foundational work. It's hard to get excited about that but it is critical to the success of the effort. That last 20%, the "framing" or bringing up players to the big leagues, is what people notice. In Milwaukee, that took several years, but he remembered when Corey Hart made his major league debut after fans had heard of him in the minors for years. He hit a foul ball 420 feet and the fans gave him a standing ovation. The Mariners farm system is in fairly good shape (8 of 9 Ms farm teams were in the playoffs last year) and we are beginning to see those players join the big league team. Tony says, "We need our Corey Hart moment," while acknowledging the sometimes cyclical nature of stocking talent and that we may hit another "trough" along the way.
Last Updated on Sunday, 06 February 2011 21:25
Read more...