By Mark Brunke
The Northwest chapter of SABR (NWSABR) held its first meeting of 2012 at Safeco Field from 12 PM to 3 PM on SABR day, Saturday, January 28. This was the fifth year in a row the Seattle Mariners played host to the chapter meeting.
In addition to the meeting, NWSABR members staffed an informational booth for Fan Fest. This year, volunteers for the booth included Mike Rice, Tim Jenkins, Anthony Salazar, David Alvarez, Mark Brunke, Bob Webster, Tip Wonhoff, John Henshell, and Rick Solomon.
We thank Mandy Lincoln, Kevin Martinez, and the Mariners for providing both the facility and an excellent group of speakers: Jack Zduriencik, Eric Wedge, Tony Blengino, Tom McNamara, and Jeff Kingston. Thirty-five members from around the Pacific Northwest made their way to Safeco for the meeting.
The informal themes of the day were young talent and the Michael Pineda trade (inclusive of discussions of Jose Campos, Jesus Montero, and Hector Noesi). The method of discussion with each of the speakers was a refreshing and forthcoming Q and A format.
The first speaker of the day was Special Assistant to the GM Tony Blengino. Tony fielded questions about many of the young players who made it to Seattle last year, as well as some players throughout the minor league system he thought fans could expect to see before the end of this year. Tony answered SABR member's questions about specific players, including Michael Saunders, Adam Moore, and Carlos Peguero. He also said he expects fans will get to see a solid season out of Justin Smoak, who's coming off a tough year, but is healthy and in good shape.
Tony said although he would love to go with the Mariners to start the season in Japan, he was glad to stay behind and observe the players staying in Arizona for that extra nine days. Tony said having all of the young talent together in Arizona allows him to do about the same amount of observation as it would in a month of travelling throughout the minor league system. One thing Tony didn't divulge is how he did on the trivia show Baseball IQ.
Mariners GM Jack Zduriencik began his comments by wishing everyone a happy SABR day. Jack fielded questions about the young talent the club has acquired, and discussed how difficult the Pineda trade was to make. He shared that the trade was initially broached when he asked fellow former second baseman Brian Cashman at the winter meetings if Montero would be available. Many calls, e-mails, and names were discussed before the trade was finalized. Jack implied that the Mariners are expecting Noesi to be a fourth or fifth starter this year.
Jack and others mentioned Vinnie Catricala, who spent last season between playing in California with the High Desert Mavericks before moving up to the AA Jackson Generals of the Southern League. Vinnie had actually improved his numbers in spite of going to the more balanced Southern League. He seems to fit a mold the Mariners are developing: players who can man several positions. Jack also discussed new rules that have been passed for the draft budget, and how that will affect the way teams approach the draft and signing players. He said the MLB draft has always been more about "signability" than talent, but with the new rules, it may lean toward "talent."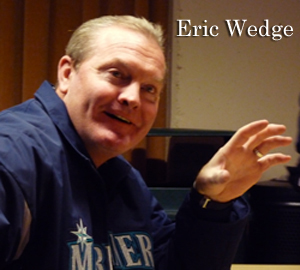 Manager Eric Wedge spoke next. Whereas Blengino provided great information about hitters coming up through the system, and Zduriencik talked about the budget and draft appr
oaches, Wedge spoke about putting expectations upon the players and motivating them to win. He stated he recently had the following position players to his house in mid-January: Dustin Ackley, Casper Wells, Kyle Seager, Miguel Olivo, John Jaso, Justin Smoak, Chone Figgins, Franklin Gutierrez, and Brendan Ryan.
Wedge also stated he's going to be mixing up the lineup this year, and that such an approach has to happen with young players. Regarding Figgins, Wedge said he thought Figgins had a great difficulty hitting behind Ichiro, and that he still thought Figgins could be a productive leadoff hitter and third baseman. Ichiro was mentioned in this context, and I believe that was the only mention of him during the meeting. Everyone apparently realizes that the youth movement is here. Wedge's main point about Ichiro was more about how he felt Ichiro has too much impact on the hitters around him, and that had a negative impact on Figgins performance as a Mariner.
The last two speakers were Director of Scouting Tom McNamara and Assistant GM Jeff Kingston. Jeff was asked how he got a front office job and what someone should do to get such a position. He stated with an internship in San Diego under Theo Epstein. From there, he was able to get a lower level position doing odd, menial tasks needed to make a baseball team run, but eventually was able to build a relationship with Theo that allowed him to move closer to his goals.
Jeff also fielded questions about players coming up through the system. A player he highlighted with a bright future is 21-year-old Francisco Martinez, who shared time at third base in Jackson after he arrived in the Doug Fister trade. Regardless of how third base works out with Kyle Seager, Alex Liddi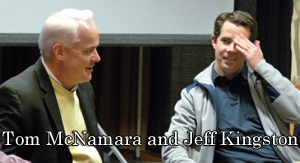 and others, Martinez may end up being the answer in the not too distant future.
Tom McNamara talked about his general approach to the draft, how the Mariners set up and organize their draft "war room," and discussed some prospects fans could expect to start creating a buzz as the MLB draft a
pproaches. In response to a member question, he addressed the Virginia/Carolina pipeline the Mariners seem to have developed. In each case, many trips to see a single player (Hultzen and Ackley) led them to noticing the other players. The Mariners drafting three players from those schools in the last two years was nonetheless mostly coincidental.
Tom McNamara, Jeff Kingston, and all the speakers are confident that the Mariners minor league system is finally going to start producing hitters. Aside from a brief mention of Ichiro, the only discussion of veterans was the utility of Brendan Ryan, the mind of Chone Figgins, the health of Franklin Gutierrez, and the time frame of Felix Hernandez. The youth discussed should provide opportunity for plenty of speculation at the annual NWSABR Mariner's Round Table during the February 18 chapter meeting in Portland.