The Northwest Regional Chapter of SABR (NWSABR) met on Saturday January 29, 2011 from noon to 3pm at the Ellis Pavillion at Safeco Field in Seattle. Our meeting was part of the Mariners FanFest 2011, a weekend event. About 35 members and guest attended. NWSABR also staffed an informational booth for FanFest (see separate recap).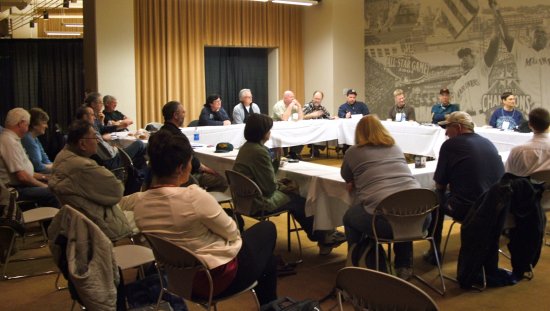 We thank Kevin Martinez (Vice-President of Marketing) and the Seattle Mariners for providing an excellent facility and an incredible lineup of speakers.

Speakers were: Special Assistant to the GM Tony Blengino, GM Jack Zdurenciek, Assistant GM Jeff Kingston, Director of Player Development Pedro Grifol, and Manager Eric Wedge.
Chapter president John Henshell opened the meeting by thanking the Mariners and former chapter president Tim Herlich for his work in coordinating the FanFest booth and meeting. John said we still need a Washington-based chapter vice-president and encouraged members who were interested to contact him.He gave a summary of the agenda for the February meeting in Portland and introduced a new program: member-host-a-member. Because NWSABR is the chapter for a very large geographical area, meetings are typically held in Portland, OR (Feb), Seattle, WA (Jan, May, Nov), and Vancouver B.C. (Aug). John encourages members to offer spare bedrooms or couches to out-of-town members.
Our first speaker was Tony Blengino, who spoke briefly and then took questions for almost an hour. Tony is a longtime SABR member and a member of the NWSABR chapter. Tony noted that from 1993-2002 he believed he gave a member research presentation at every chapter meeting; this was before he "got into baseball." Questions asked by meeting attendees focused on the performance of last year's team and expectations/marketing, and the expectations for the team and specific players for 2011.
Expectations were very high for the 2010 Mariners, but the front-office never really felt comfortable with those expectations. After the season, Tony reviewed work done by Tom Tango (who consults for the Mariners) and could not find another team where every position player had performed lower than expectations (sometimes significantly lower). Just "regressing to the mean" for 2011 would produce better results. Last year, the Mariners underperformed offensively and were inefficient at driving in runners. He hopes that players new to the team and an increased focus on fundamentals such as plate discipline and situational hitting will result in the team scoring about 150 more runs than they did last year.
Tony encouraged fans to "hang with us" after such a dismal season. He recalled going through a similar experience in Milwaukee around 2000 when that team was coming off of a 100-loss season and had few minor-league prospects. They spent 2002-2003 rebuilding the minors. He used the analogy of building a house – 80% of the work is not seen, people are driving by and looking at a big hole in the ground or foundational work. It's hard to get excited about that but it is critical to the success of the effort. That last 20%, the "framing" or bringing up players to the big leagues, is what people notice. In Milwaukee, that took several years, but he remembered when Corey Hart made his major league debut after fans had heard of him in the minors for years. He hit a foul ball 420 feet and the fans gave him a standing ovation. The Mariners farm system is in fairly good shape (8 of 9 Ms farm teams were in the playoffs last year) and we are beginning to see those players join the big league team. Tony says, "We need our Corey Hart moment," while acknowledging the sometimes cyclical nature of stocking talent and that we may hit another "trough" along the way.
Tony answered questions about specific prospects, players recovering from injuries, and players acquired in trades. When asked about who will lead the clubhouse, Tony cited Felix and Ichiro, who are both quiet, but lead by example with their work ethic, preparation, and dedication to team.
Tony noted that the Mariners organization at all levels understands and emphasizes the importance of customer service and how a family of four may have scraped and saved to attend a single Mariners game in the season. Everyone in the organization should make sure that family has a good experience. This philosophy was repeated by Jack Zdurenciek and Eric Wedge.
Mariners GM Jack Zdurenciek addressed the group and took questions for approximately 45 minutes. Jack also tackled the issue of high expectations for 2010, aided in part by the team having overachieved in 2009. He spoke of balancing "going young" with meeting expectations and obligations to fans and to players like Felix and Ichiro, who have committed to this team. In the off-season, Jack interviewed several managerial candidates and hired Eric Wedge after being impressed by Wedge's energy and take-charge nature. The coaching staff also discussed. Jack echoed Tony's earlier comments in the importance of building the farm clubs, saying "'you have to have a foundation to succeed at anything in life."
Questions for Jack varied from the length of Ichiro's contract, his opinion of the Greinke trade, how the Mariners handle issues such as when players show chemical dependencies etc., what he thought of the recent action by Gil Meche in walking away from guaranteed contract money in KC, and his philosophy regarding the draft (pick the best player available, regardless of position). Before he left, Jack noted the organization and his personal commitment to the fans and said "We want to deliver for you."
Following Jack, Pedro Grifol and Jeff Kingston took questions for about 45 minutes. Pedro is the Director of Player Development and also assists Bob Engle as needed for International signings/scouting. Jeff is the Assistant GM in charge of options, outrights, DFA, payroll, etc. Jeff formerly worked for Kevin Towers and the San Diego Padres.
Questions for Pedro were about the psychological testing that the Mariners do (once before signing, once after with the second test helping provide insight to how best to coach the player). Pedro spoke about the minor league teams and how bullish he is on them, again repeating how competitive the teams were last year and how important it is for the players at each level to gain experience in playoff situations as well as for the affiliate cities to be able to watch competitive teams. Previously, the Ms organization had focused on getting the players to the big leagues quickly; focus is now on ensuring that once the player has moved to the next level they can play there from then on. Pedro also described what happens when a player is drafted, as well as how the role of the scout fits into player development.
Questions for Jeff were about the success of the 2010 San Diego Padres, contract issues such as what situations a team may be able to void a contract with a player, when and why players insert no-trade clauses into their contracts, the relationship of each team with MLB and whether MLB's establishment of a league office in Phoenix is helpful to the West Coast teams, and the general mix of contracts/salaries on a given team. Jeff noted that teams that spend too much of their payroll on a few players are generally not successful. Jeff noted that players often have a short shelf-life and there is much risk involved; trying to achieve a balance within a given payroll is challenging.
The final speaker was new Mariners manager, Eric Wedge. Wedge said that his philosophy is to be "firm, fair, and consistent," and that intangibles are important and help to establish the identity of the team. He likes the diversity of the Ms team, a mix of proven talent, young kids, and players trying to make comebacks. Wedge had been involved in a rebuilding effort in Cleveland, but didn't see the current Ms situation as a rebuild as much as a "build on what's here" situation. He believes his biggest challenge is to change the mindset of the club to ensure that they work together as a team and as professionals; players owe their best performance to the fans. He noted that during the interview and in general, he is blunt and honest and will take responsibility and will also hold players accountable.
Questions for Eric covered "small ball" and chemistry and leadership within the clubhouse. Wedge noted that players have difficulty becoming vocal leaders because they fear confrontation, not being liked, taking risks, etc. From the new acquisitions, he noted that Miguel Olivo is known for being tough and fiery, Brendan Ryan is a "young old school kid" and Jack Cust can always be counted on for good ABs. He noted that coaching is real-time, but management means thinking ahead and assessing opportunities/risks. Eric would have loved to have played for Bobby Cox, and Johnny Bench was his favorite player. He learned a great deal from Buddy Bell when Buddy was his bench coach. Wedge assured us that we would be impressed with the quality of the coaching staff and then detailed their strengths. Like Jack Zdurenciek, we were impressed with Wedge's energy.
The Seattle Mariners organization and its speakers provided us with a fabulous FanFest meeting on National SABR day.