NWSABR 2-19-11 Meeting Recap
Written by Mary Groebner
The Northwest Chapter of SABR met on Saturday February 19, 2011 from noon to 5pm at the Hillsdale library in Portland. Twenty-five members and guests were in attendance.
Chapter president John Henshell announced that Rick Solomon has agreed to serve as Vice President.
After introductions, member John Simpson made a presentation about his third published book, "The Greatest Game Ever Played in Dixie". It's about the Nashville Vols 1908 season and championship game. While working on his book about Edith Pope, John encountered an article written by Grantland Rice about the Vols championship game. Rice's quote spurred John's interest and became the title of his third book.
The book begins with the last games of the 1907 season, and continues through the championship game of the 1908 season and beyond, as the last chapter notes what later happened to the players of the Vols. John also discussed the Southern Association, owners, stadiums, and teams within the league. Research included accounts from three local newspapers, the Sporting News and Sporting Life, and interview. John shared many interesting photos from his book.
The Vols played were managed by Bill Bernhard, who John didn't feel ever got his due. Bernhard was one of the earliest foes of the reserve clause and a close friend of Napolean Lajoie. The Vols played in a unique ballpark named Sulphur Dell; it was only 265 feet to the RF wall, but the last 40 feet of that rose at an incline and the city dump was on the other side of the wall. The field was reversed in 1927, moving homeplate out to where center field had been, and then finally torn down in 1963. It was extremely hard to play RF, but Doc Wiseman played it so well that one of his nicknames was "The Goat.". As part of his research, John was able to locate three of Wiseman's children and spent eight hours with them, listening to their memories and also sharing stories that he had uncovered during his research. This was a special experience for John and the Wisemans.
Last Updated on Monday, 16 May 2011 16:36
Read more...
NWSABR Booth at 2011 Mariners FanFest
Written by Mary Groebner
Mariners FanFest 2011 took place at Safeco Field in Seattle on Jan 29-30. Jan 29 was also National SABR day.

The Northwest Chapter of SABR once again staffed an informational booth at FanFest, handing out baseball cards to kids and conversing with adults about the mission of SABR and local chapter activities.

Volunteers staffed the booth, which was located on the main concourse near third base, from 8:30am to 4:00pm Saturday and from 11:00am to 4:00pm Sunday. We don't have a total count of how many individuals stopped by, or how many baseball cards we distributed, but 29 people signed up and requested more information about the organization.
NWSABR member Dave Eskenazi set up a display of historical Seattle baseball photos, which was very popular with fans, near the Dave Niehaus memorial.
Thanks to the Mariners, former chapter president/current treasurer Tim Herlich for dealing with the logistics of booth setup and volunteer coordination, Dave Eskenazi for once again sharing his amazing collection, and to the volunteers: Bill Woodward, Chuck de Grasse, Herm Gilman, John Henshell, Mark Brunke, Bob Webster, Stan Opdyke, Stephanie Hall, Tim Herlich, and Tim Jenkins. Special thanks to those who staffed the booth during the NWSABR chapter meeting!
NWSABR 1-29-11 Meeting Recap
Written by Mary Groebner
The Northwest Regional Chapter of SABR (NWSABR) met on Saturday January 29, 2011 from noon to 3pm at the Ellis Pavillion at Safeco Field in Seattle. Our meeting was part of the Mariners FanFest 2011, a weekend event. About 35 members and guest attended. NWSABR also staffed an informational booth for FanFest (see separate recap).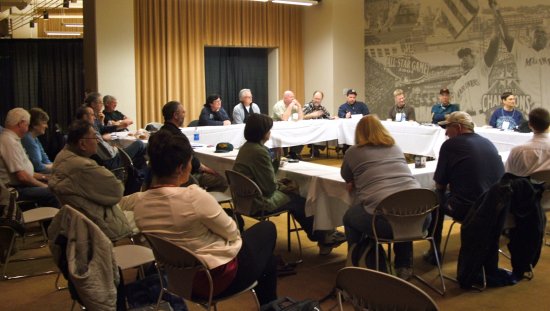 We thank Kevin Martinez (Vice-President of Marketing) and the Seattle Mariners for providing an excellent facility and an incredible lineup of speakers.

Speakers were: Special Assistant to the GM Tony Blengino, GM Jack Zdurenciek, Assistant GM Jeff Kingston, Director of Player Development Pedro Grifol, and Manager Eric Wedge.
Chapter president John Henshell opened the meeting by thanking the Mariners and former chapter president Tim Herlich for his work in coordinating the FanFest booth and meeting. John said we still need a Washington-based chapter vice-president and encouraged members who were interested to contact him.He gave a summary of the agenda for the February meeting in Portland and introduced a new program: member-host-a-member. Because NWSABR is the chapter for a very large geographical area, meetings are typically held in Portland, OR (Feb), Seattle, WA (Jan, May, Nov), and Vancouver B.C. (Aug). John encourages members to offer spare bedrooms or couches to out-of-town members.
Our first speaker was Tony Blengino, who spoke briefly and then took questions for almost an hour. Tony is a longtime SABR member and a member of the NWSABR chapter. Tony noted that from 1993-2002 he believed he gave a member research presentation at every chapter meeting; this was before he "got into baseball." Questions asked by meeting attendees focused on the performance of last year's team and expectations/marketing, and the expectations for the team and specific players for 2011.
Expectations were very high for the 2010 Mariners, but the front-office never really felt comfortable with those expectations. After the season, Tony reviewed work done by Tom Tango (who consults for the Mariners) and could not find another team where every position player had performed lower than expectations (sometimes significantly lower). Just "regressing to the mean" for 2011 would produce better results. Last year, the Mariners underperformed offensively and were inefficient at driving in runners. He hopes that players new to the team and an increased focus on fundamentals such as plate discipline and situational hitting will result in the team scoring about 150 more runs than they did last year.
Tony encouraged fans to "hang with us" after such a dismal season. He recalled going through a similar experience in Milwaukee around 2000 when that team was coming off of a 100-loss season and had few minor-league prospects. They spent 2002-2003 rebuilding the minors. He used the analogy of building a house – 80% of the work is not seen, people are driving by and looking at a big hole in the ground or foundational work. It's hard to get excited about that but it is critical to the success of the effort. That last 20%, the "framing" or bringing up players to the big leagues, is what people notice. In Milwaukee, that took several years, but he remembered when Corey Hart made his major league debut after fans had heard of him in the minors for years. He hit a foul ball 420 feet and the fans gave him a standing ovation. The Mariners farm system is in fairly good shape (8 of 9 Ms farm teams were in the playoffs last year) and we are beginning to see those players join the big league team. Tony says, "We need our Corey Hart moment," while acknowledging the sometimes cyclical nature of stocking talent and that we may hit another "trough" along the way.
Last Updated on Sunday, 06 February 2011 21:25
Read more...
11/6/10 meeting in Seattle recap
Written by John Henshell
NWSABR held a meeting Saturday, November 6 from noon to 5:00 at Seattle Pacific University. We had three member presentations and one local celebrity guest presentation.
Art Thiel of seattlepi.com, which now exists solely as a Web-based newspaper, was our special guest and first speaker. Art has been a columnist for the P-I for many years, and is the author of "Out of Left Field: How the Mariners Made Baseball Fly in Seattle." He and Mike Gastineau co-authored "The Great Book of Seattle Sports." Art and fellow columnist Steve Rudman are currently preparing a new Web site called NW Sports Press (http://www.nwsportspress.com/). They expect the site to debut before the end of the year.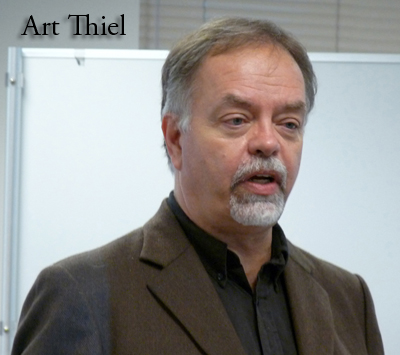 Art mostly talked about the Mariners and gave us some insight into the personality and character of the people who run the organization. He presented the opinion, expressed in a recent column, that the Mariners are following a good cop/bad cop trend in hiring managers.
Our guest told the history of the relationship between Chuck Armstrong and Ken Griffey, Jr. He believes Armstrong's lack of courage led to the unraveling of the 2010 season. If the M's president had been willing to acknowledge that the former superstar had nothing left to contribute on the field, Griffey would not have returned for a second last exit. As a team leader in 2009, Griffey supported Wakamatsu. When Wakamatsu was forced to bench Griffey, the veteran soured. Thiel says many of his teammates turned against the manager in support of the popular faded superstar. He attributes Chone Figgins' disappointing first half and expressed frustration to trying to over-achieve to justify his big free agent contract.
After devoting a generous amount of time to his talk, Art answered many questions from members, and even stayed through a meeting break to continue the discussion and answer more questions.
Jeff Bower made the first member presentation. His entertaining and informative topic was "The Worst Offensive Teams since Expansion." Jeff used advanced statistical analysis to rank each team in offensive ineptitude. He presented information about the top 10 in a countdown (or the bottom 10 in reverse order, depending on how you wanted to see it).
The 2010 Mariners were an obvious inspiration for the research, but were only the seventh worst team, according to his methodology. They weren't even the Mariners worst offensive team; the 1983 team was worse. An early Blue Jay team was the most punchless team of the past 50 years.
John Henshell followed with the presentation, "Will Justin Smoak be a successful major league hitter? What history says." He researched all players from 1973 through 2007 and found that Mike Schmidt was the only player to hit as poorly as Smoak (.209 in 235 AB at the time of the trade to Seattle) in his first extended shot in the major leagues who became a superstar, and Brandon Phillips is the only other player to become a star.
Only 18 rookies hit below .210 in the 35-year period, and only 102 rookies hit below .230. No one in the first group got his lifetime BA as high as .270, and only seven in the larger group got into the .270s. With the possible exception of five caught PED users who were excluded from consideration, none hit as high as .280. The median lifetime average for this group is .233. Two-thirds of all sub-.230 hitters were middle infielders or catchers.
Among other first basemen with low BAs as rookies, Greg Brock appears to be the most similar to Smoak. Jason Thompson is also very similar, and his career appears to be the best-case scenario for Smoak.
Following a discussion of chapter business and event planning, Mark Armour made the final presentation of the day. He discussed the building of the 1964 St. Louis Cardinals. Mark presented a strong case that Bing Devine made all the best player personnel decisions for the eventual world champions, while everyone else in the organization with input or veto power made or would have made moves that would have hurt the team.
Our next meeting will dovetail with FanFest at Safeco Field. The event is scheduled for January 29, which the national office is promoting as SABR day in America. Then, we will meet in Portland February 19.
Last Updated on Wednesday, 17 November 2010 15:07
NWSABR Meeting in Vancouver B.C. 8/21/10
Written by John Henshell
Canadian and U.S. NWSABR members were among the large turnout at Nat Bailey Stadium in downtown Vancouver B.C. The meeting was hosted by member Max Weder of Vancouver. Chapter president, Tim Herlich, and vice president, John Henshell, briefly addressed the group.
Ian and Colin Dixon were our featured guest speakers. Ian played in the Yankees organization from 1961 to 1964, the last years of the team's lengthy glory era. He voluntarily retired to go to college. Ian felt his best chance to play in the majors was as a pitcher, but the Yankees gave him a better offer to play 3B.
Colin, Ian's son, also played 3B. He was in the Red Sox organization from 1989 to 1995. At 42, he looks fit enough to still be playing. Today, he is a financial advisor. Both Dixons are from the Vancouver area and still live there.
Ian was a charming speaker and told some great stories about both well-known and obscure Yankees. He told about his lifelong friendship with Roy White. Details are also recounted in Tom Hawthorn's column here: http://www.theglobeandmail.com/news/national/british-columbia/tom-hawthorn/a-major-league-friendship-that-crossed-the-colour-line/article1684186/. The story of Ian and Roy's encounters with racism in the U.S. south are particularly touching.
Ian talked about spring training in Florida. Growing up in B.C., he had never experienced heat and humidity like Florida's. He had trouble sleeping and stepped outside for some fresh air. While he was outside, Mickey Mantle also left the hotel. "I guess Mickey had some trouble breathing, too," Ian deadpanned. Then a limo with a beautiful woman inside arrived. Mantle got in the limo and presumably broke curfew. Ian noted how the players were in awe of Mantle's hitting prowess.
Colin's experiences and stories were equally fascinating. Colin was disappointed that the Red Sox provided little instruction to their minor league players in his era. He sat down on the bench next to Ted Williams during spring training. "How are you doing, Ted?" he asked. Williams replied, "Where are ya from, kid?" Colin told him, and Williams said, "They got some great fishing up there." Not knowing that Williams was famous for fishing, Colin asked, "Do you fish?"
They talked fishing for 15 minutes. Colin said only later did he realize he should have asked Williams about hitting.
Colin also addressed steroids, which were just coming into vogue when he played. He said the one way to identify a probable user is to look for hitters who fearlessly crowd the plate. He mentioned a former teammate who went on to great success with the Houston Astros as an example.
We had many questions for Ian and Colin, and they were answered with candor. Max concluded the meeting with a trivia quiz.
After the meeting, most of the group went to the home of Max and Jennifer Ettinger for pizza, beverages, and more baseball talk. The day of baseball activities was concluded with the Vancouver Canadians game against Boise that evening. A few pictures from the August 21 events are here: http://www.flickr.com/photos/baseballart/sets/72157624685080885/detail/.
Last Updated on Wednesday, 15 September 2010 10:04