You are here:
Upcoming events
Event
Title:

NWSABR Meeting Vancouver BC

When:

08/21/2010 1:00pm - 3:30pm

Where:

Nat Bailey Stadium - Vancouver

Category:
Description
Ian Dixon, NY Yankee farmhand from 1961 to 1964, will be a featured guest. We are hoping that his son Colin (a Boston Red Sox farmhand in the 1990s) will also speak, and this will be the first father/son speaker combination at a Vancouver SABR meeting. A big thank you to Vancouver Canadians owner and SABR member Jake Kerr for allowing us to meet at Nat Bailey Stadium.
Following the meeting, a post-meeting BBQ will take place at the home of Max Weder and Jennifer Ettinger at 2953 Ontario Street (13th and Ontario). Everyone is encouraged to head back to Nat Bailey Stadium to watch the Canadians play Boise at 7:05pm.
Any questions? Please contact Max Weder at weder@shaw.ca.
Venue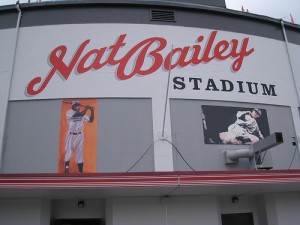 Venue:

Street:

4601 Ontario Street

ZIP:

V5V 3H4

City:

Vancouver

State:

BC

Country:
Description
Sorry, no description available