You are here:
Upcoming events
Event
Title:

NWSABR meeting

When:

05/07/2011 12:00pm - 5:00pm

Where:

Category:
Description
Mark Armour will discuss the trade that after the 1971 season that had Joe Morgan & others going from Houston to Cincinnati in exchange for Lee May & others. This trade was instrumental in the success of the Big Red Machine with Morgan being National League MVP in the Reds World Championship teams of 1975 & 1976.
Mike Rice will speak about Similarity Scores.
John Henshell will let members know the results of the recent chapter survey and how the chapter will respond.
Stan Opdyke will talk about baseball on the radio in New York City in 1953.
The Fremont branch of the Seattle Public Library is located at: 731 N. 35th Street, Seattle WA 98103.
NOTE: After the meeting, chapter members will attend the Mariners-White Sox game, which starts at 6:10pm. The seats are in Section 329 (almost directly behind home plate), rows 12-14 and cost $20 apiece. If you are interested in tickets, contact chapter vice-president Rick Solomon at

ricksolo@integraonline.com

or call him at (206) 963-3258. Mail your checks
to Rick Solomon, 10454 Third Ave. S., Seattle, WA 98168.
Venue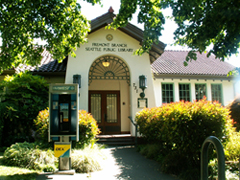 Venue:

Street:

731 N. 35th St.

ZIP:

98103

City:

Seattle

State:

WA

Country:
Description
Sorry, no description available