The Northwest Chapter of SABR held a meeting in the conference room of the Seattle Pacific University library from 12 to 5:30 PM on Saturday, November 3, 2012.
The meeting was attended by 36 people, including nine who were attending their first SABR meeting.
The meeting began with a welcome from Bill Woodward, our host, SABR colleague, and Professor of History at SPU. Many of the new attendees were Bill's students and their family members.
Rick Solomon discussed chapter business. He announced this would be the last meeting for John Henshell as President. The chapter gave John a hearty round of cheer as he is finishing his current two-year term in that capacity preceded by two years' service as Vice-President. VP Rick Solomon becomes President in January. Mark Armour is our Vice-President-elect. Mark and John are both from Oregon, and Rick is from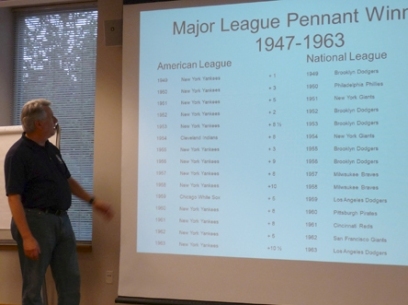 Seattle. The chapter's tradition is to have the leadership roles alternate between Washington and Oregon. Tim Herlich provided a report of the chapter treasury, which is free of usury at the present time and in a healthy condition. We held a book exchange to spur donation efforts and it raised $32.
Scheduled guest Mel Stottlemyre had to cancel for health reasons, but we hope to have him for a future meeting. Our first presentation, Tim Herlich's "1964 American League Pennant Race," would have dovetailed nicely into Mel's appearance. Tim covered how teams finished in the 1963 season and off- and in-season roster changes that would influence the 1964 Pennant Race. The season had a number of memorable characters, including Charlie Finley, erstwhile journalist Jim Brosnan, and amateur harmonica player Phil Linz. Tim showed how the August 11 call-up of rookie Mel Stottlemyre saved the Yankees. The White Sox, Orioles, and Yankees finished within two games of each other, trading the lead in a round-robin fashion until the Yankees finally emerged on top.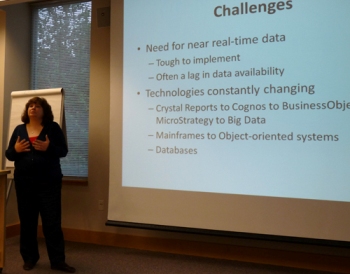 In the second presentation, Melissa Booker looked at "Corporate America's Best Example of Business Intelligence: Major League Baseball". Melissa gave an overview of business intelligence, a term used to describe the way companies collect and organize data at different levels for usage in supporting decision-making. Melissa modified a presentation she usually gives to business management, and showed how baseball's unified system of information and measurement allows managers to make instantaneous, sound decisions. The Reds fan cited George Lee "Sparky" Anderson as the greatest user of business intelligence. Melissa noted how "Captain Hook" would always have the most recent and relevant information necessary to make the right decisions, and this was reflected by the success of the Reds and Tigers under Anderson.

Mark Brunke gave the next presentation, on "The Spread of Baseball in the Pacific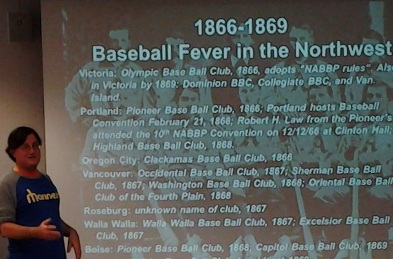 Northwest to 1890." Mark began by giving an overview of the Spread of Baseball project, which is currently underway at www.sabrpedia.org. The Spread project is an attempt to locate the first games and clubs to use New York rules in each state, as well as document any predecessor games related to baseball. Mark coordinated efforts for the Northwest, and included information found by fellow sleuths Bob Webster, Melissa Booker, Michael Lynch, and Terry Gottschall. Mark showed how the Northwest had a competitive amateur baseball environment from 1866 on in Portland, Walla Walla, and Victoria. For the final part of the presentation, he used a photograph of Seattle's first club, the Alkis of 1876-79, to show how the players had each brought a background of organized baseball with them as they migrated to Seattle.
Next, Rob Garratt presented "Matthew Fox & the Move West by the Giants and Dodgers." Rob described the influence of Fox and his company,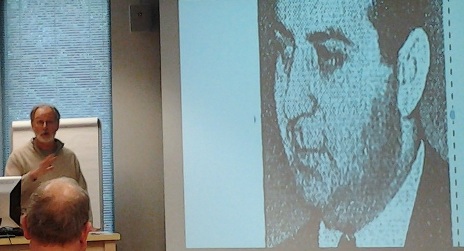 Skiatron, on baseball's decision to move west. Fox was an early proponent of pay-per-view broadcasting, and he was a behind the scenes player in the decision making of both Horace Stoneham and Walter O'Malley.
The final member presentation was Mike Rice's "Who Really Belongs in the Hall of Fame." Mike looked at all the members of the Hall of Fame elected by the BBWAA, and then used a stepwise methodology to see who should "really" be included. Mike looked at WAR, Black Ink, Grey Ink, Hall of Fame Monitor, and Hall of Fame Standards measurements. Mike's methodology gradually grew to include most of the elected players in the Hall. The definitions of each of the measurements can be found on Baseball-Reference.com. Mike's inclusions, exclusions, and methodology generated passionate discussion.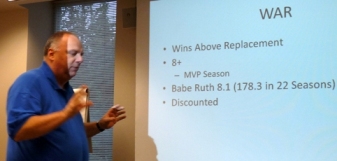 John Henshell hosted a discussion of the state of the Mariners based on our recent chapter poll. NWSABR members were sent the poll results after the meeting.
The next meeting will be in late January, so please check back for details.