Spring! When the cold winds of winter have died down, there is an ever-so-slight hint of warmth in the air. The crocuses push through the soft earth, followed by daffodils. The earth returns to life, and the ever-warmer breeze carries the word - and you have to have the right kind of ears to hear it - baseball! The days grow longer and brighter and the wind whispers the word - baseball! The hopes of spring, of a new year, of a new season, blossom with rampant enthusiasm. Life starts anew. Hope is reborn. Baseball is again the perfect sport, because it begins during the height of spring, when Nature begins its symphony of color, of hope, of rebirth. And the flip side, of course, is that baseball finishes it season just as the leaves are turning brown, as hope is extinguished for all but one, and a long winter sets in, like the perfect setup man, waiting for the Easter resurrection. Just perfect.
But I was taken by surprise by the early beginning this year. The first regular-season game played in March. But I tuned in to AFN the next day, and I was rewarded with a Giants game! Unfortunately, it was against the "World Champion" Atlanta Braves (But as far as I know, they have as yet to play the Hiroshima Carp or the Enfield Spartans). And worse yet, it was at Atlanta, and worse yet, it was the Atlanta broadcasters. Now I know most predictions picked the Braves to repeat as W.C., and picked the Giants to finish somewhere toward the bottom of the Pacific Coast League. I know that; most baseball people do. But these Braves announcers were downright catty, and I can't handle that. They were talking about the new Giants ballpark (what are they calling it - British Telecom Park?) and one of them said ,"Yeah, it's near our hotel in San Francisco, and it's a real high-crime neighborhood," and the other one sniggered and said, "Well, everyone calls it the 'Left Coast'." That's rich, coming from the birthplace of the Ku Klux Klan.
Just last night I heard on AFN how the police are struggling to clean up the crime in Atlanta in advance of the Olympics (basically arresting anyone not wearing a suit). According to the FBI, they said, the only city of more than a quarter-million inhabitants with a greater overall crime rate was Las Vegas, and with a greater rate of violent crime was New York (or Newark - the wind was blowing in from Spain at that moment.) The point is that in the cosmic scheme of things, the Giants have so far exceeded everyone's expectations while the Braves have disappointed. And speaking of disappointment, I've talked to our Chairman, Mike Ross, a Red Sox fan, on a daily basis, with him holding a razor an inch from his jugular, trying to give him a reason for living. I could join the Samaritans. When does fandom become martyrdom? Too often, for some. Me, for instance.
So I read in Satellite Times that NBC Superchannel was playing live baseball again early on Saturday mornings - what a delicious treat, like profiteroles. So I forsake sleep, eagerly stay up, and get the CNBC Business News. Zzzzzzz! I phone up NBC, and they say they're moving all their programming to Eutelsat - a wise move, because then they don't have to worry about anyone watching them. It's also available on cable. But not on Astra, the single most popular extraterrestrial programming source in Europe. So I've got to check into how to hook up Eutelsat, along with its wide variety of Turkish and Romanian programming.
The people at the satellite advice center said I could either buy a motorised dish or a get a dish with two thingeys sticking out of it, one for each satellite. I understand Sky Sports will start its usual one-week-behind, two-hour-summary baseball shows, starting in mid-June. It doesn't bear thinking, listening to Mike Carlson argue with some local announcer whether baseball is more exciting than football. Did you see how they handled Super Bowl XXX, from the Lizard Lounge of the Hippodrome? Horrid... Sports need more respect than that, even American sports.
Next month is what in America we would call "Baseball's Sesquicentennial" - it's 150th Anniversary. More specifically, it's the anniversary of the first contest played between two teams under the first codified rules of Baseball. It was played at Elysian Fields, Hoboken, New Jersey, between the Knickerbockers - baseball's first real team, and the New York Nine, on June 19, 1846. The rules were very close to what we follow today, except for the pitching distance, and the fact that the first team to score 21 runs would win, with equal innings. Alexander Cartwright, the closest thing baseball has to an Abner Doubleday, was the umpire.
The New York Nine won a decisive victory, with two extra runs in their pocket, 23-1. The Knickerbockers had been playing only intramural games before, and with this setback, they only played among themselves until about 1850. But they couldn't keep it to themselves. The most fascinating thing I comprehend by reading about the early days of the game is its incredible spread. I think it was 1858 when it was first described as "our national game". That's the year after the first baseball convention, and the founding of the National Association of Base Ball Players. And it only went uphill from there. Two years later Jim Creighton, the man who invented pitching, became baseball's first professional.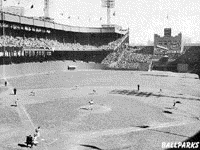 The Polo Grounds.
Have you ever had baseball dreams? I have. I remember seeing an article about the Giants and Dodgers in the teens, the dead-ball era. There were pictures of John McGraw and Wilbert Robinson, the two ex-old-Orioles who split New York National League baseball between them. I was fascinated. At that time Polo Grounds was the palace of baseball, with by far the largest capacity. That night I had a dream of a huge ballpark, filled with people, with huge soaring arches connecting both sides of the bleachers, with Muggsy and Uncle Robbie battling it out on the field. I had another dream once; I don't remember what brought it on. I was at Wrigley Field in the 1930s. I knew I was a time traveller, and it was a cherished moment.
I don't remember the game, but the milling crowd, the ballpark experience, the individuals from the depression era - I can vividly recall. One more - I can remember dreaming about the Polo Grounds being discovered in Golden Gate Park, in San Francisco. This is weird - it's like no one knew it was there before, and someone just stumbled upon it. I remember viewing it with awe, its bathtub-shaped hull, its green interior. Then a few days later I was at a ball game there - I was in a corner of the ballpark, watching the crowd as much as the game. Only Freud could explain this - and he's dead. But so is Polo Grounds.
I may be nuts. But I'm not clinically insane. It's easy to wax lyrical about the ballpark experience. There's something wonderful about a ballpark, something that the narrow view of television just can't capture. Maybe because it's full of the rituals of humanity, of challenge and teamwork, win and loss. Maybe because it's a bridge for generations, really like nothing else. So is it a metaphor for life? That might be going a bit too far, unless you've always got eight guys on your side. On a good day I'm lucky to have one.
All ballparks, however, are not home to baseball. Elsewhere in this issue, I write about a Henry Chadwick article I discovered in a wonderful University of Nebraska Press book entitled Early Innings. Another article dealt with Albert Spalding's Round-the-World Baseball Tour, with his Chicago White Stockings playing an All-Star team picked from the rest of US baseball. On March 12, 1889 they played at the Oval in Kennington, a cricket ground that still exists. The book reprints a Times article that mentions Spalding's previous 1874 Baseball mission - I'm glad they remembered - and then mentions the illustrious company that viewed the game, listed, of course, in strict order according to class: first two Princes, then a Viscount, two Lords, a Sir, Dr WG Grace the famed cricketer, and then a few nondescript Mr's. It's important to get these things correct.
This cast my mind back to the time I'd seen baseball played at the Oval - no, it wasn't in 1888. It wasn't even in 1924. Don't be cheeky! In fact, it was in 1993, when two AAA teams masquerading as the New York Mets and the Boston Red Sox played there. It was a sunny day in October - in fact, it was the last day of the U.S. baseball regular season. The last games hadn't been played yet, so, as you recall, the Giants and the Braves were tied with 103 wins. I saw someone with a Braves hat and I berated him, and he said, "Yeah, and they're going to win today," and I said, "Yeah, no chance". All in good fun, of course. I think it was my last day of happiness ever. The event was sponsored by French's mustard, ostensibly to promote the winning combination of hot dogs and non-toxic mustard. But this aim was spoiled by the fact that they didn't have real hot dogs - it's almost impossible to get them in this country.
I was feeling my taste buds salivating at the smell of open fire cooking, and then I overheard an American tell a friend disappointedly, "They're sausages!" This is the land where they put "American hot dogs" in tin cans packed in brine, and they can't tell the difference. The closest thing you can get to hot hogs here are jumbo Knackis, made in Germany. Forget finding hot dog relish, but in rare occasions you can find sauerkraut to put in it. If you look hard enough, you can make an appetising ballpark concoction.
But I was supposed to be writing about the Oval, not culinary delights. I was fascinated - I don't know when it was built (obviously before 1888), but it had a multitude of character. No U.S. ballpark even approaches it in age. The Giants have played in six different parks since then. I got the feeling that it had been built in stages, a section here and a section there, over the years. It never gave the impression of being very big or seating many people.
It reminded me of the pictures I'd seen of the original Polo Grounds, not the Harlem ballpark, but the one at Columbus Circle that was torn down after the 1888 season, the year that baseball visited the Oval. Being late arrivals, we sat in the outfield. The game was enjoyable, and the culture clash of American cognoscenti and the British curious was amusing at times. We were regaled by a frantic green parrot mascot - was this the Pirate mascot? Once, toward the end of the game, I felt the pangs of hunger and went off in search of a sausage dog. While I was queuing up in front of a huge French's mustard bottle replica, a home run was hit over the fence right where I had been sitting. Oh well. You can't always be at the right place at the right time.