Baseball is eternal. Baseball is also immediate. For instance, I am writing this at 12.20am, British Summer Time, early in the morning of Sunday September 28. I am listening to Internet Radio, to the flagship station of the San Francisco Giants, and they have just won the National League West.
Memories come flooding back this night. Like the last day of the 1993 season, when the Giants lost their division title on the last day of the season after winning 103 games. I was listening on a weak signal from Armed Forces Radio. Will 1997 exorcise the demons of 1993? My mother died the month after that last game, and I don't think I've gotten over either loss. I hope she knows what happened tonight.
Or the night I attended another pennant-clincher, in 1979 in Anaheim. I had just moved to Los Angeles and was rooting for the Angels as a second team, because I had to have some local team. And they were having a great year. They had a final season-ending series with their arch-rivals, the Royals, whom they were beating decisively. I was on the second deck, and when that rhythmic stomping and excitement went on and on, the whole deck vibrated so that I feared for the structural stability. After the game they opened up the gates so I got to walk on the field and look up at the seats. I'll never forget the pandemonium as I made my way through the car lot. I'll never forget the excitement of the voices coming from the radio, announcers and callers alike. I'll never forget the pure and simple joy.
Or the last time I was at Candlestick. I was in California to clear out the house I was raised in. My wife and I were with a long-time friend and a long-term Giants fan. He had just met a woman, and he delighted in telling me she was also a Giants fan. They are going to be married this week, during the baseball postseason. It was September last season, when the Giants were mired in the cellar, without even a chance to clinch second-worst. The atmosphere reminded me of when Roy Hobbs first shows up at War Memorial Park. I think the attendance was about 8,000, and I've never seen a park so empty. We had seats four rows behind the dugout. It was like watching a minor-league game, only it had Barry Bonds as a ringer. I've never seen a crowd so sparse and dispirited. My friend, and I don't think there's a major leaguer named Steve Lund, said "I just have to look forward to the 49ers".
Memories, like time, seem sometimes to turn around events in baseball. This way baseball turns into part of your personal history. In moments of triumph like this, it all becomes very clear.
Victory is especially sweet because all the analysts placed us last. If the doctors ever tell me I only have a few weeks to live, I'll show them the predictions for the 1997 season, and they'll understand I'll live to a ripe old age.
I have a friend from university (UCLA) who's been my friend throughout the years. He was from the L.A. area, and he bled Dodger blue, though I wouldn't call him a rabid fan. More like a rabid Giant hater. Anyway, a job opportunity takes him to San Francisco, and he falls under the city's spell - a lot of people do. So last year a player is brought up to the Giants from Phoenix, and does well, and does even better this year - he becomes one of the team's stalwarts, after taking over Matt Williams' position. And he's got the same name as my friend. So his namesake, the old Giant-killer, starts rooting for the home team. And now, if I get to see my team in the World Series this year, I'll be privileged to sit next to Bill Mueller. Only this one pronounces his name correctly. He told me he sometimes gets phone calls for the Giants player, and I told him it would be a great line for pulling birds, although I probably didn't use the British colloquialism with him.
As an aside, why are fans always referred to as "rabid"? Why not "febrile"? Is rabies the only disease a team fanatic can have? Does it have something to do with foaming at the mouth?
So we come again to another postseason season, and thoughts wax philosophical. I hope your team did well this year, and didn't bomb out too badly. With two exceptions, in which case I hope your team crashed and burned, with horrific flames. Anyway, I can be magnanimous now, because at time of writing we haven't entered the postseason. And we won't know the final results until (at latest) October 26, a few days before Halloween. Hey, that's a thought. There's a team in each league that wears Halloween colours, and is a San Francisco - Baltimore World Series such a long shot?
I enjoyed last year's World Series. I always enjoy seeing the Braves scuppered. I especially appreciated the Sky Sports coverage, which saw fit to interrupt the last game of the World Series with an hour of Australian superbikes. When I found out this was happening, the day before, my jaw dropped open and my mind ceased to function. Anyway, I taped the game and watched it the next day, so I didn't have to file my nails and make endless cups of tea at 3 am when those damn bikes were roaring around and around the track. I get up bright and early the next morning, not knowing the results. Before I watched the videotape, I flick on the teletext to get the morning news. Now on ITV, page 301 is the main headlines. But on BBC, 301 is the sports headlines. Needless to say, I thought I was on ITV, but I was actually on BBC. So instead of the main news, I get the sports news. US sports get little mention in UK media, with the exception of the Super Bowl and the last game of the World Series. So I saw screaming headlines "Yankees win baseball World Series". "Noooo!" I screamed. "I didn't want to know that!". My wife said: "But isn't that the result you wanted?". I said "Yes, but I didn't want to know yet!". So I watch the tape and those damn superbikes don't bother me so much, because I already knew the result, and I've got fast forward. Enjoyed the game anyway, and I wouldn't have missed Wade Boggs riding that horse for anything.
So that night, it was a Sunday, I'd already had baseball withdrawal. So I switch on AFN radio to see what was on. I'm immediately greeted with that horrid tonal sequence that accompanies the tomahawk chop! "Noooo!" I screamed. My heart grew heavy, my brain grew numb. Thoughts raced through my head. They had to replay the sixth World Series game because of some technicality. Maybe like the Pine Tar game. The Yankees are going to have to do it all over again! The Braves can still win it! How did this chain of events happen?
All these thoughts occurred to me in the second or two before the announcer came on saying "You're listening to Florida Seminoles football". The Braves stole that obnoxious howl from a college football team! It took me a half hour for my heartbeat to return to normal.
I was on holiday in Austria in June, about the time of the first interleague games. We got this place high up in the Alps. So one night I dial around the radio, to see if I could pick up a local AFN station. And it comes in loud and clear from Munich. I guess when you're that far up, you can pick up stations for miles. And the game was the Giants vs Mariners, and they were winning the second game of the series for a sweep. It was a beautiful signal, without that howling Spanish station overriding your signal. We were on the roof of Europe, not far from the highest village in Austria. Picking up such a familiar signal in a foreign land is very comforting. Then JT Snow hit a home run to take the lead, and I got so excited that I jumped up and spilled my schnapps!
One final thought about the connection between baseball and memory. I once wrote about having this dream of finding the Polo Grounds in Golden Gate Park in San Francisco. Like, it was just there, and nobody knew until I stumbled across it. Then I buy this book about the hippies, and it has a photo of a poster for the "Human Be-In: A Gathering of the Tribes", set for January 1967. It was to be the herald of the Summer of Love. It took place in Golden Gate Park, and needing a huge open place for so many people, the Be-In naturally took place on "The Polo Grounds" of Golden Gate Park. It was on the poster. It was a weird feeling, because I had that dream long before I bought the book.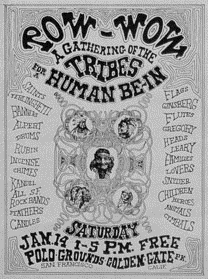 Dream on...
Is Jung right? Is baseball part of our collective consciousness? Somebody had to ask.