***update February 1***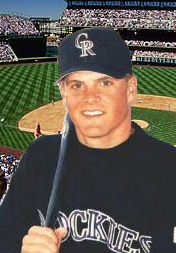 Former Colorado Rockies catcher Ben Petrick will be our special guest. Ben had a .322 BA in 208 AB in 1999-2000 for the Rockies to start his major league career. Then, health problems began to affect his playing ability and his life.
Ben didn't quite match the early success of Pete Reiser, Walt Dropo, Herb Score, or Mark Fidrych, but the story of his playing career has many parallels. His life story, however, is unique and definitely worth hearing.
---
When a team bookkeeper noticed that Rickey Henderson's huge signing bonus had not been cashed or deposited, the team called Henderson's agent. The agent reported that Rickey was waiting for interest rates to go up before depositing the check.
I guarantee that your interest rate will go up at the NWSABR meeting Saturday, February 18. The meeting is from noon to 5:00 at the Hillsdale Library in Portland. Baseball discussion will continue after the meeting at the brewpub two doors down from the library.
We have a full slate of member presentations. Mike Rice will host our annual Mariners roundtable discussion. Mike looks back and forward, and provides and explains statistical analysis of topics of interest. His presentations are always entertaining and informative.
Greg Rybarczyk will discuss and demonstrate his invention, the ESPN Home Run Tracker. He's been tracking home run distances since 2006 with original software that estimates distance by using physics. If you'd like to ask Greg to present information about specific home runs, you can contact him in advance at grybar@hittrackeronline.com.
Dan Schlewitz will do a presentation about defensive innings played by players at each position for all teams from 1955-2011. It will include trivia quiz elements. Dan made a fascinating presentation about roster turnover at our Eugene meeting last August, so expect this to be equally worthwhile.
John Henshell will do an interactive presentation about strength of schedule as a context factor. He'll document the drastic difference between leagues in the modern era and show some examples of how much player performance is skewed by the player's division.
David Alvarez will follow with a provocative proposal entitled, "Let's Truly Realign MLB." He's come up with a very interesting way of accomplishing the owners' objectives while preserving as much as possible of what we love about the past.
We won't have a separate trivia quiz, as a couple of presentations include trivia. I am bringing a desirable collection of baseball books to the meeting. I'll give some away as trivia answer prizes. Members who volunteered at Mariners FanFest 2012 each get one. Members who come the greatest distance from the north, south, and east (minimum 50 miles) each get a book. The member who saw the earliest major league game (you don't have to reveal your age) gets a book. The youngest member also gets a book.
Out-of-town members are encouraged to carpool. Contact Vice President Rick Solomon if you're interested in carpooling from the Seattle area. I'll try to match people who'd like to carpool from other areas.
Send a message to the chapter through SABRNation or to me if you can host an out-of-town member. We don't have a spare bedroom, but we can put up someone on our couch and/or on an airbed in my office. Baseball talk and breakfast are included.
The meeting does not require registration and is free and open to the public.