Written by Monte Cely
Thursday, 23 April 2015 20:54
Nine chapter members met for dinner at Iron Works in downtown Austin this Thursday, April 23. This is the 101st consecutive monthly meeting for the Rogers Hornsby Chapter of SABR.
Activities and points of discussion included:
Optimism about the Astros' good start to the season. Several members had already been to Astros' games and are looking forward to continuing improvement.
General discussion around replay reviews (positive) and rules to shorten length-of-game (early results look favorable).
Jim Baker conducted a lottery drawing to assign Predictatron contestants to two divisions. In honor of last year's two division winners, this year's divisions will be named the Tom Thayer Division and the Raeanne Martinez Division. Jim will have Predictatron data entered and a first round of results available within the next week or so.
Monte Cely gave a brief report, on behalf of Jim Kenton, as to the status of the Alzheimer's Baseball Memories project. The Austin Alzheimer's Association is currently soliciting for participants for a "trial season". The season will consist of six 90-minute sessions, held every other week from Monday May 18 to Monday July 27. Each session will include baseball content such as box scores, videos, audios, etc. with the goal being to engage the participants in recalling and discussing memories about baseball. Next steps will then be determined, based upon experiences and feedback from this trial.
Gilbert Martinez solicited interest from the group in volunteering to form a committee to oversee the agenda for the next chapter Winter Meeting, to be held in January, 2016.
Upcoming chapter meetings are tentatively set as follows (more information will be forthcoming):
May Monthly Meeting - Tuesday, May 19
June Monthly Meeting - Saturday, June 6 at Dell Diamond vs. Ok. City Dodgers
Last Updated on Thursday, 23 April 2015 21:10
Written by Gilbert Martinez
Sunday, 22 March 2015 17:24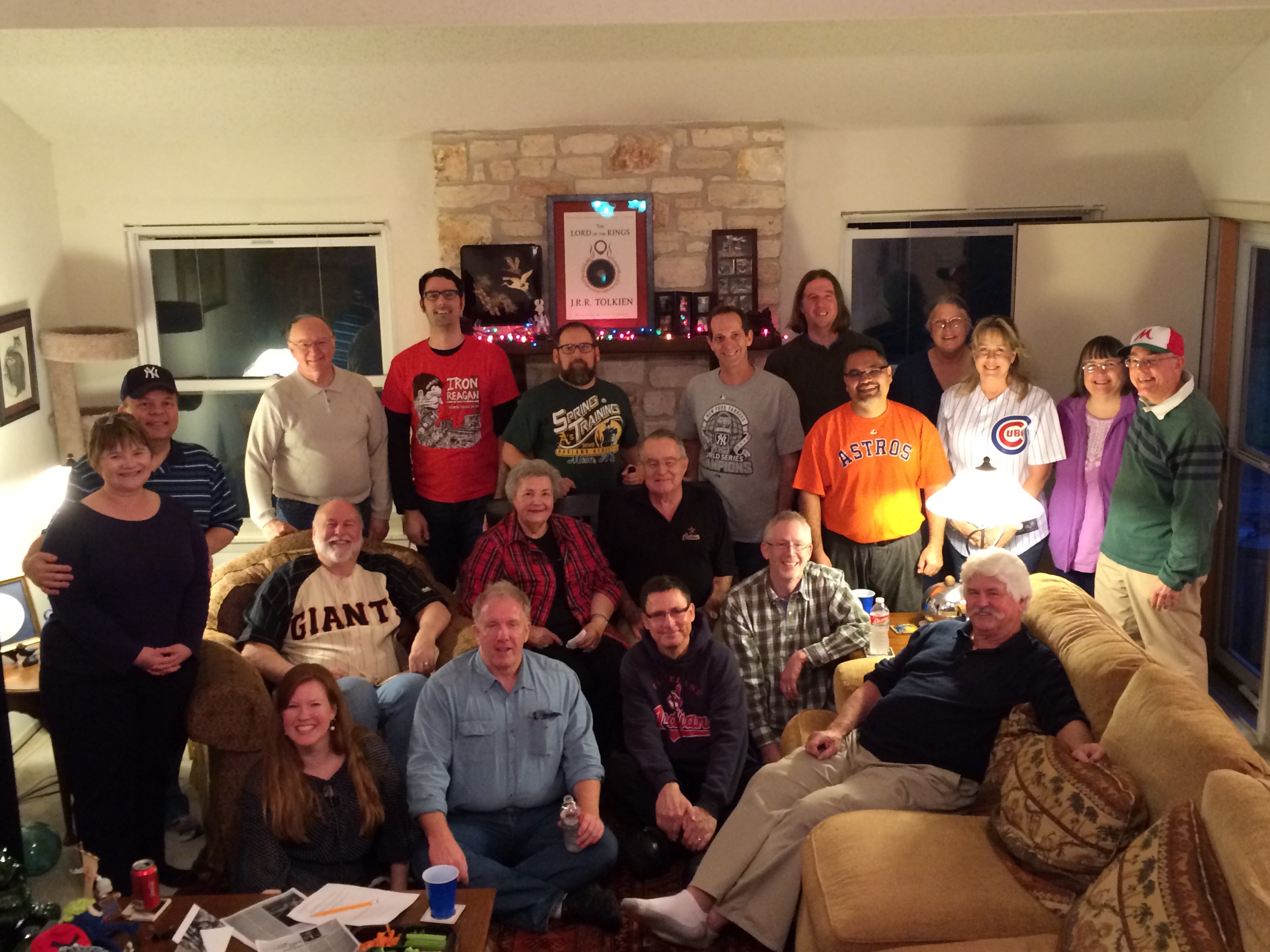 Twenty-one members and guests celebrated the Rogers Hornsby Chapter's 100th consecutive month with a meeting on Saturday at the Martinezes' home in southwest Austin.
We enjoyed good pizza (from Yaghi's New York Pizzeria) and a dazzling array of side dishes, appetizers, beverages and desserts.
Jan Larson won a trivia contest created by Gilbert Martinez that covered information about the chapter history, members and guest speakers. Like the namesake of the bobblehead that Jan won for his victory, Jan slugged away all challengers and stood tall on the mound. He scored 33 out of a possible 40 points on the quiz. Try your hand on the quiz by clicking here.
Many thanks to everyone who joined us for the celebration.
Now that we have reached 100th consecutive months with a meeting, we return to our usual programming and start working toward 200 consecutive months with a meeting! The next meeting will be at 6 p.m. Thursday, April 23, at Iron Works BBQ in downtown Austin.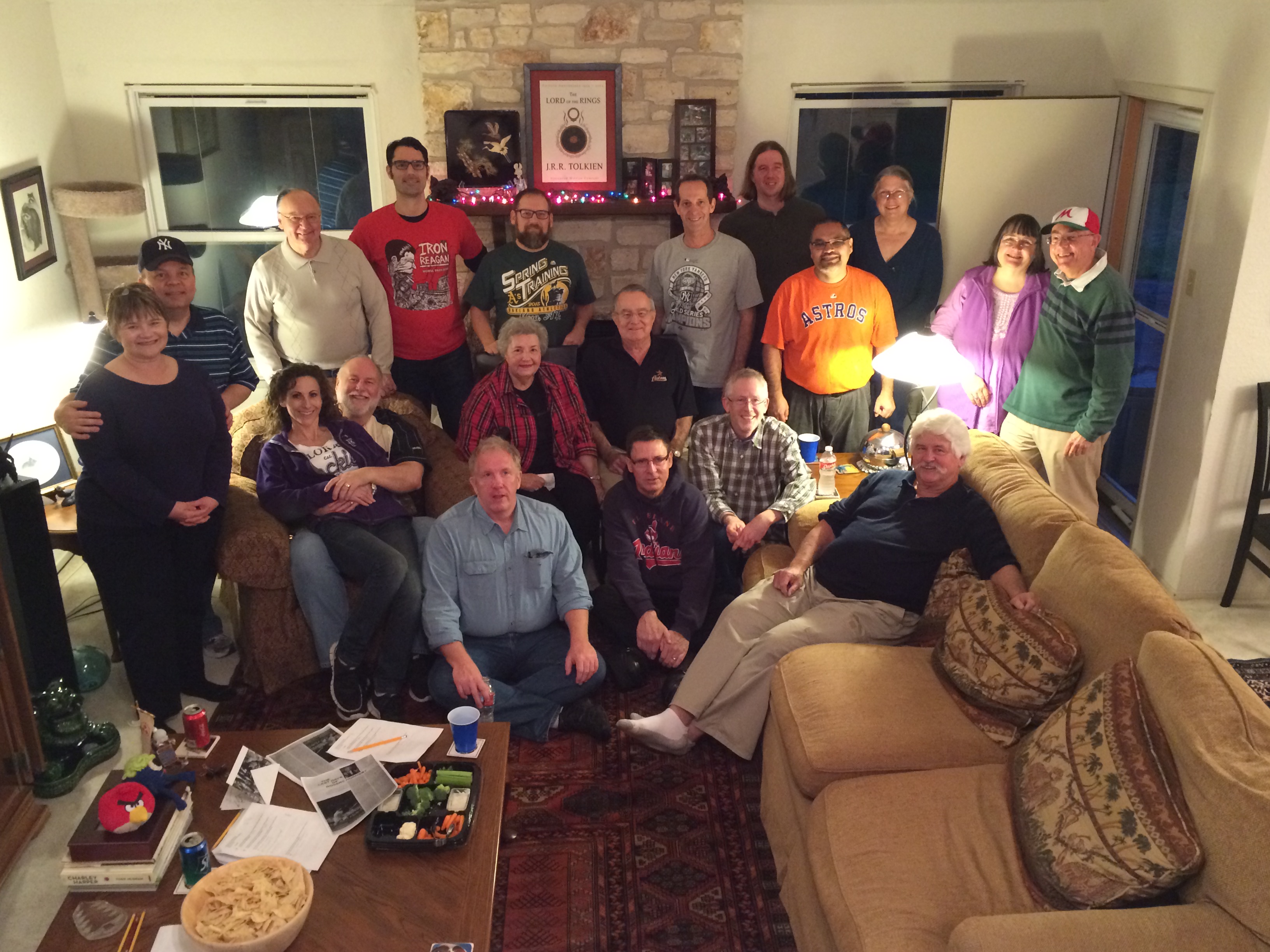 Last Updated on Sunday, 22 March 2015 22:40
Written by Gilbert Martinez
Thursday, 05 March 2015 22:18
Spring training is underway and Opening Day is just around the corner. This month marks a special celebration for the Rogers Hornsby Chapter. When we meet on Saturday, March 21, it will be the 100th consecutive month in which our chapter has met!
It's a celebration that's, well, 100 months in the making! I'll have a special trivia quiz to mark this occasion. Here's what you need to know about the celebration.
We'll have a pizza party at the home of Gilbert and Raeanne Martinez in southwest Austin starting at 6 p.m. Saturday, March 21.
Please RSVP directly to Gilbert (gmartinez46@mac.com) if you plan to attend by Friday, March 20. You may bring a side dish, an appetizer, dessert or beverages.
When you RSVP, please let me know what you're bringing so we can minimize duplications.
Let me know if you have any questions. Hope to see you for our 100th!
Last Updated on Thursday, 05 March 2015 22:18
Written by Monte Cely
Thursday, 26 February 2015 22:13
Ten members of the Rogers Hornsby Chapter met Thursday evening, February 26, 2015 at IronWorks BBQ in downtown Austin. This was the chapter's 99th consecutive monthly meeting!
Topics of discussion included the opening of Spring Training and the prospects for the attendees' favorite teams.
Jim Kenton gave a report on the status of the Alzheimer's Memory project. This is an effort to use baseball memories and experiences to help enhance the well-being of early-stage Alzheimer's patients. Jim reported that the local Austin-area chapter of the Alzheimer's Association was highly supportive of this effort, and they are in the process of recruiting participants for a "trial season". It's envisioned that about ten participants, plus their care-givers, will engage with SABR members in a bi-weekly session to talk baseball. More details will be forthcoming.
Monte Cely and Mike Dillon shared their experiences at Serie del Caribe 2015, the Caribbean World Series, held in San Juan, Puerto Rico. This was followed by a quiz about Latin American baseball, with a Puerto Rican flavor. Dan Walsh won the quiz, with an excellent score of 18 of 25. The quiz is here. A picture of Dan, wearing his prize (a Puerto Rican bandana), is here:
Plans are being made for our 100th consecutive monthly meeting next month - March, 2015. More details will follow.
Last Updated on Thursday, 26 February 2015 22:21
Written by Gilbert Martinez
Sunday, 25 January 2015 19:50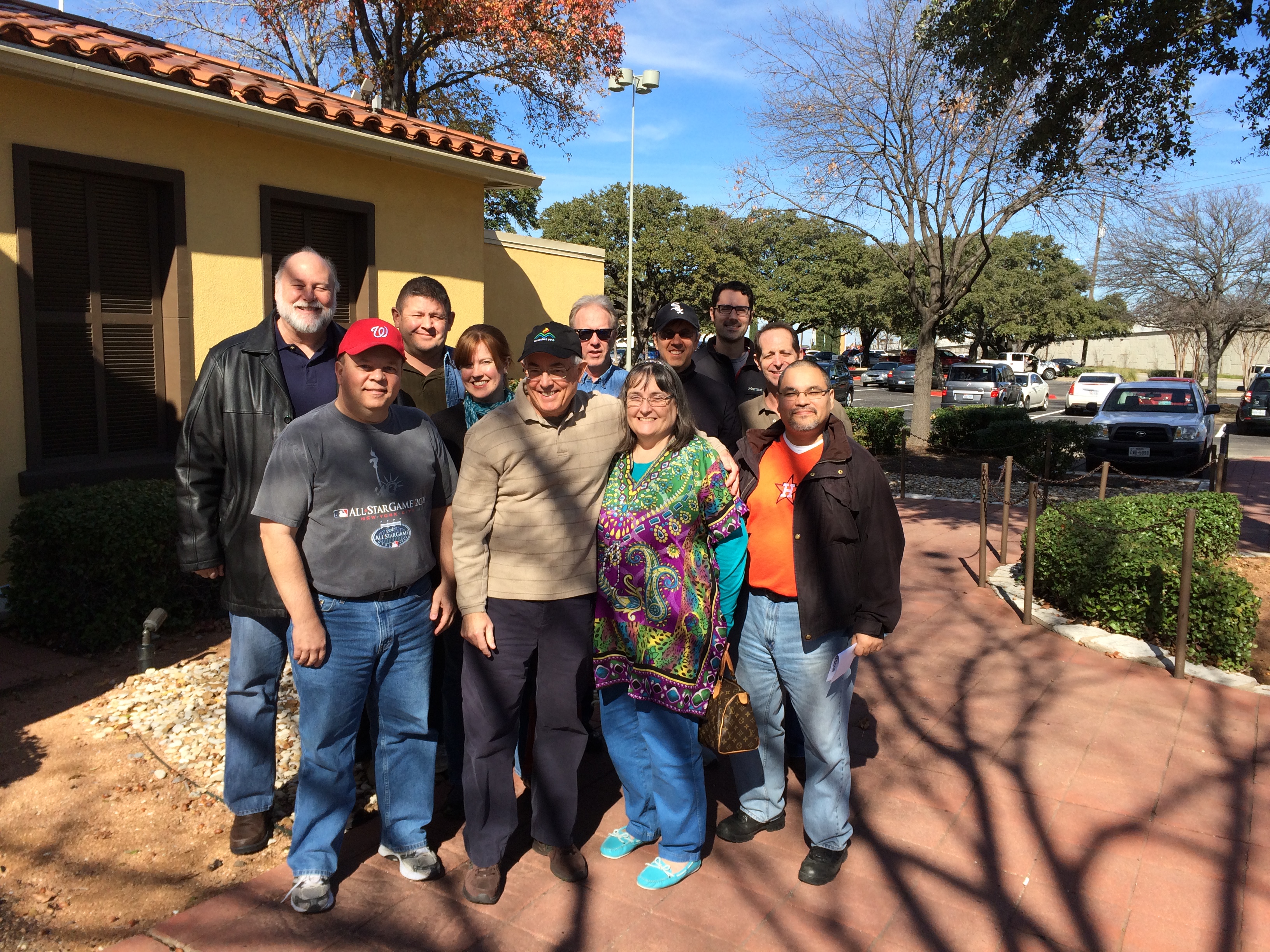 A dozen chapter members and guests celebrated SABR Day on Saturday, Jan. 24, along with nearly three dozen chapters across North America.
Cy Morong, who traveled from San Antonio to join us, brought a copy of "Computerized Baseball Guide," a paperback book filled with baseball statistics and rankings published in 1974. Published by Stadia Sports Publishing, Inc., the book authors are listed as the Compu-Scout System, though no names are given. Morong found that the book had some system for the computerized rankings, but did not fully explain how calculations were made.
The group shared a toast in memory of Mr. Cub, Ernie Banks, who passed away the day before. Speaking of Banks, Morong shared research he did that showed that Banks led the National League in RBIs and fielding WAR (for all players, not just shortstops) in 1959. Morong said that a cursory check showed that the two others who have led in those categories were Honus Wagner and Johnny Bench.
SABR shared the Hornsby Chapter group photo above on their Facebook page and Twitter account, which were liked, commented upon and shared even more.
Check out SABR Day on social media by clicking on this link and you'll see the above photo, which I shared on my social media networks/ You'll also see photos from many other SABR Day celebrations, including our friends with the Larry Dierker Chapter, which had a table at the Astros FanFest.
Last Updated on Monday, 09 February 2015 21:41
<<

Start

<

Prev

1

2 3 4 5 6 7 8 9 10 Next > End >>


Page 1 of 18