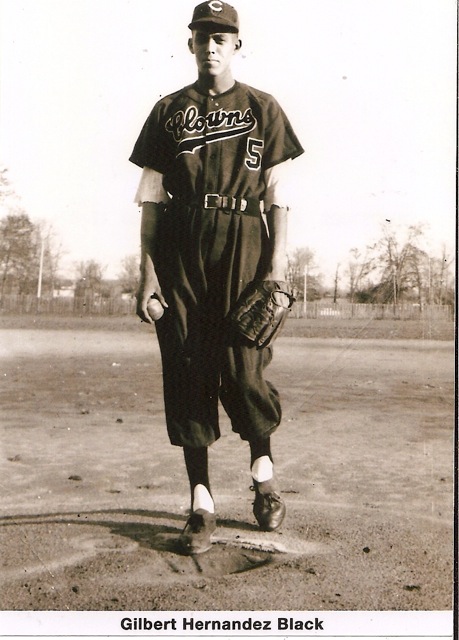 GILBERT HERNANDEZ BLACK
Entrepreneur, Father and Retired Baseball Player with Negro Leagues
BIO & GIL'S PERSONAL MEMORIES' OF HIS PASSION: "BASEBALL"
I grew up in New York City, until I was sixteen. My mother was young in her twenties. I have a sister who is one year younger than I. Our father was not living with us then.
First, I remember we lived in a one room on the second floor on 154th Street between
St. Nicholas Avenue and Amsterdam. I don't remember much except I started school on 155th and 156th at 5 or 6 years of age. The name of the school was PS 46.
My mother was a professional tailor and in demand in her neighborhood. She also worked in a cleaners, and soon owned he own place on 158th Street and Amsterdam Avenue.
We moved into a small apartment on 158th Street and Amsterdam. We had a one bedroom for my sister and I, and my mother used the living room for her bedroom.
I lived two and one half blocks from the polo grounds and in sight of Yankee Stadium. The first baseball game I ever saw was the Boston Red Sox and the New York Yankees. I saw Ted Williams and Joe DiMaggio. The first team I loved was the Red Socks; I was about 7 or 8 years of age.
A few years later, I fond out I could see the major league baseball by climbing up the wall in left field and for the most part I would not get in trouble. The more baseball I saw, the more I loved the game.
The boys I played with were not as fanatic about baseball as I. We played at the parks under the George Washington Bridge; we played in the parking lot next to the polo grounds and Yankee Stadium, and Macoms Park.
I had a good arm and I started pitching. An older friend named Paul Atco taught me how to wind up, throw curve balls, drops and screw balls. Paul Atco made sure we'd practiced a lot and worked on fundamentals. We played all over the Bronx, Manhattan, and Brooklyn. I was excited everywhere I played.
Later, I started going to the big shows in Central Park where I could meet and play with polished ball players, such as Diamond II. There I met Mr. Reese who gave his life to baseball and all the kids who wanted to play. There were a few Negro League ball players like Buddy Miller, who was a short stop. These Negro League players would play with us and we would learn from them. I saw major league ball players that were on leave from the army.
At sixteen we moved to Stamford, Connecticut. Stamford was a baseball town; they had a black baseball team called the Eagles and the Stamford Black Yankees. The Eagles were all men and good ball players. I decided to play with them.
In 1952 to 1954, I was at Stamford High School playing ball. I ended up with 15 and 1 record. In the fall of 1953, the Eagles played a great team called the Indians; we played for a lot of money. The Eagles had me pitch. The New Haven Indians had a big bus and brought lots of people. The park was packed. I pitched my heart out and won the game,
1 to 0 with a good back up.
The next week two players from the Indians came to our room to get me to pitch. They had a big game with the Braves Farm Club in the Eastern League called the Hartford Chiefs. There were bags of money betting on the game. This was my first night game.
I pitched my heart out all nine innings and won. I used the name Kenny Hart. I did not want to use my real name, because I was still in high school. No one ever found out.
In 1954, I went to a Braves try out in Meriden CT. There I saw the manager of the Hartford Chiefs. He told me he has been looking for me for some years now. I pitched a couple of innings and did very good.
There were scouts looking for me, my name was out there. The next day, I was contacted by the Cleveland Indians and offered a major league contract.
At the Braves spring training they must have had a thousand ball players from all over. Out of four or five days, I was allowed to pitch two innings. I gave up no hits, no runs. My one at bat I hit a double. I don't think anyone even noticed. I was shipped to West Palm Beach and released.
Spring of 1956, I went into spring training with the [Indianapolis] Clowns, they heard of me before and they treated me very well. I had a real good season.
Gilbert Hernandez Black