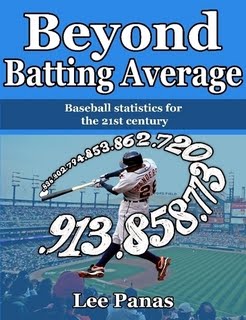 Over the past few decades, a multitude of advanced hitting, pitching, fielding and base running measures have been introduced to the baseball world. This comprehensive sabermetrics primer will introduce you to these new statistics with easy to understand explanations and examples. It will illustrate the evolution of statistics from simple traditional measures to the more complex metrics of today. You will learn how all the statistics are connected to winning and losing games, how to interpret them, and how to apply them to performance on the field. By the end of this book, you will be able to evaluate players and teams through statistics more thoroughly and accurately than you could before.
Buy it from Lee's store: Print: $14.00 or Download: $7.00
Lee Panas is a research analyst at Brandeis University in Massachusetts. He has been writing about baseball on DetroitTigerTales.com since 2005 and has contributed to publications such as "Graphical Player", "How Bill James Changed Our View of Baseball" and "Tigers Corner"
(From Lee Panas' webpage: Tiger Tales: A Detroit Tigers Blog)
"If you are a non-mathy guy, but want to understand sabermetrics better, then a huge thumbs up for this book. If you are pretty much comfortable with sabermetrics, but still not there yet, then a regular thumbs up." --- Tom Tango, MLB statistician
"I have no doubt that you'll find it easy to keep up with the stats that Panas presents. I was also impressed with how comprehensively Panas covered each topic. Simply put, after reading this, you will be able to converse about sabermetrics with pretty much anybody and hold your own." --- Neil Paine, Baseball Reference
"For fans who want to learn more about these new advanced statistics, Lee Panas has created a comprehensive guide that can easily be followed by any student of the game. "Beyond Batting Average: Baseball Statistics for the 21st Century" unlocks the mysteries of sabermetric stats for hitting, fielding, and pitching." --- James Bailey, Baseball America
"In Beyond Batting Average, Lee Panas brings baseball's bold new world of statistical analysis to life. He is comprehensive, clear, and even clever. He examines every aspect of the game - hitting, pitching, fielding, special situations, team-building - with fairness and enthusiasm." -- Charles Euchner, Author of "The Last Nine Innings"
"There has not really been a comprehensive resource that explains all the sabermetric statistics you need to know in one simple package. Well, at least there wasn't until Lee Panas published Beyond Batting Average." --- David Gassko, The Hardball Times
"Lee Panas published a terrific sabermetric primer. It's extremely current, with great scope, and will be an awesome resource for those interested in learning more about sabermetrics--especially player valuation statistics." --- Justin Inaz, Beyond The Boxscore
"This incredibly helpful guide needs to be on the bookshelf of every baseball fan, and should be required reading for anyone wishing to be a baseball analyst, scout or front-office executive." --- Michael Street, Lovemyteam.com