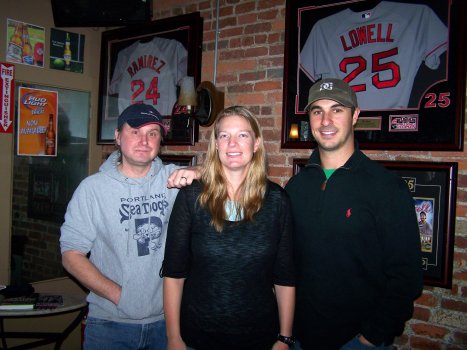 (Justine Siegal (middle) and Jeff Natale (right) with SABR Boston's co-chair David Laurila)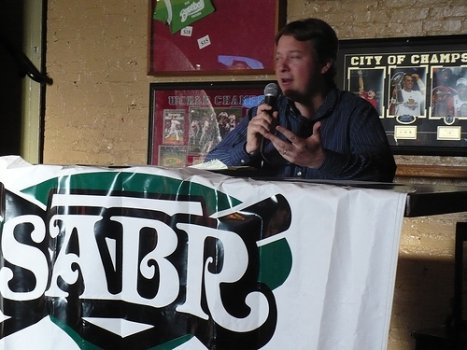 (MLB.com's Red Sox beat writer, Ian Browne)
The Boston Chapter fall meeting was held on Saturday, November 7, 2009.

The November 7, 2009 meeting at The Baseball Tavern was a memorable occasion. Justine Siegal, Jeff Natale and Ian Browne were entertaining, informative and we were honored by their presence at the meeting. We hope in the future to have them back. More photos can be found on SABR Boston's Flickr page.
DATE: Saturday, November 7, 2009
TIME: 10:30 AM to 4 or 5 PM
LOCATION: The Baseball Tavern,
1270 Boylston Street, Boston MAP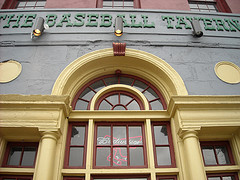 If you have not been to a meeting at The Tavern, be advised that it is located one block from Fenway Park. There are parking lots in the area, or it is otherwise advised to take public transportation as the best way to get there. The Tavern is nearest the Kenmore or Fenway stations on the Green Line.

Jeff Natale, Red Sox minor league prospect who spent this past season with AAA Pawtucket Red Sox, will be there to pick up where he left off at a meeting a few years back when he impressed everyone with his knack for telling great stories.
We will have Justine Siegal, from the Brockton Rox who will have her own unique stories to tell about her experiences with professional baseball. Also see: NCAA Champion magazine, 2009 Fall profile
MLB.com's Red Sox beat writer, Ian Browne will also give a talk about the team he covers, along with what goes into the job of a beat writer. You can follow his twitter feed at @IanMBrowne.
Also: the "1950 Red Sox Panel." Herb Crehan with an advance preview of the up-coming publication of Red Sox players of the 1950s by Chapter members .
Research presentations:
Jim Kaplan Spahn-Marichal, 1963
Mark Kanter – How Bad Does a Pitcher have to be and still be a Closer?
Jay Hughes – Baseball Literature for Children and Young Adults

Ttrivia contest by Mark Kanter
There are three enthusiastic research presenters lined up as well as
Lunch buffet is available as usual.

And as always, there will be many baseball items on the raffle table!
All of the Boston Chapter meeting are open to public (though we highly recommend becoming the SABR member) and a $5 donation is humbly requested. It is a great place to network with other people who are interested in learning more about baseball. Everyone's expertise are unique, so bring your own baseball knowledge/expertise!
If you are a new SABR member and have not yet attended a Chapter meeting, this will be a great meeting for you! Don't be shy. Bring a friend for moral support, and we are sure you will be glad you did.

For information please contact:
jhulbert@earthlink.net

Joanne Hulbert, co-chair
SABR Boston Chapter