2014 Boston Baseball Hack Day
Written by Daigo Fujiwara
Monday, 03 February 2014 21:05
2014 Boston Baseball Hack Day

Sunday March 2nd, 9:30 am to 7 pm




135 Morrissey Blvd, Boston, MA



Love creating stuff on your computer and LOVE baseball? Come hack with us!
The third annual Boston Baseball Hack Day on March 2nd, 2014, is a fun, friendly one-day hacking competition for baseball fans. SABR Boston Chapter is a commiunity sponsor of the event!
The event will be held at the Boston Globe, 135 Morrissey Blvd, Boston, MA, a walking distance from MBTA Red Line "JFK/UMass" stop. Baseball Hack Day is a free event thanks to our generous sponsors, but RSVP is required.
It is the day where area baseball minds come together and see what cool projects can be created within a limited time. The project could be (but is not limited to) a tool, app, website, or data visualization.
New to hack days? Have no fear. There'll be people of all skill levels and skill sets participating. It is also a great opportunity to network and socialize among like-minded people. Follow us on Twitter @BaseballHackDay
The event is based on the principal of the Hack Day Manifesto. It will always be free to attend, and we won't make participants sign any type of documents. We are run by volunteers, and we'll never be for-profit.
Last Updated on Monday, 03 February 2014 21:15
RECAP: 2014 MLK Day meeting at the Baseball Tavern
Written by Joanne Hulbert
Monday, 03 February 2014 20:58
What a week in Boston! Baseball beginning to end! The Boston Chapter held its annual Hot Stove/MLK Day meeting at The Baseball Tavern. If we have a a bigger, wilder more memorable meeting than this one, well, we've forgotten about it. We were very fortunate this year to have all the stars and moon aligned and the roster of speakers on January 20 exceeded our wildest expectations. We learned a lot, heard a lot, saw a lot and are now in revved up mood for the start of the 2014 season.

I confess that sometimes the sabrmetrics discussions are over my head and I get lost after paragraph two. But Dan Brooks and his presentation on pitch tracking was eminently understandable. Even mention of neural circuitry of visual attention did not discourage me. Thank you, Dan, for not losing me deep in the statistics - nor were any others lost.

For a quite while over the years, we had talked about getting Tommy Harper to a meeting, having heard rumors that he is a particularly dynamic speaker who can steal the hearts of fans like he used to steal bases. OK, kind of sappy, but true. I think anyone who was there would back me up. I had the great fortune of talking one on one with him after his presentation and he is truly a baseball treasure (OK sappy again). If you ever get the chance, talk to him!

Then along came Adam Darowski , creator of Hall of Stats (.com), and here we go, more stat stuff. And he was just as approachable and understandable as Dan. He used a lot of math - but was not intimidating. I learned a lot. Here he made WAR totally understandable to the sabrmetrically challenged. What could be bad? Nothing! See his website! Great stuff, no regrets.

The Boston Chapter is admittedly surrounded by great baseball resources. Any time of the year, you can hear baseball discussed in the bars, on the T, and the hats with B's on them are ubiquitous - yes, that - no matter if the Patriots, Celtics or Bruins are in high gear. The Boston Globe has a great full page baseball column every Sunday and most days has at least some baseball news. We also are lucky to have many great baseball writers. Peter Gammons luckily hangs around Boston, and he was able to stop by and regale us with stories for over an hour. No one left their seats for that one.

And as if that was not enough, we had a last minute addition to the agenda. Just days before the meeting, John Farrell confirmed he was free for an hour and walked over from Fenway Park and spent nearly an hour answering questions from the crowd, giving us his take on the upcoming season.

By the end of the meeting, we were all elated at the turnout - about 75 attended - exhausted - good thing The Tavern has Green Monstah Ale on tap - and wondering what we could do for an encore.We are simply thankful that Boston is such a big baseball town, all day, every day of the year.

The next big holiday in Boston is Saturday, February 8 - TRUCK DAY! ! ! Each year, a crowd gathers at Fenway Park to cheer as the truck pulls away from the curb with all the stuff for Spring Training at Ft. Myers. Yes, people do show up for this every year - it is better than Groundhog Day. Be there, if you can, it'll mark the turning point away from the polar vortex - I hope.

Joanne Hulbert
Boston Chapter

Listen to the sound of Tommy Harper:

Listen to the sound of John Farrell:
Next Meeting: January 20, 2014, MLK Day at the Baseball Tavern
Written by Joanne Hulbert, David Laurila, and Daigo Fujiwara
Tuesday, 31 December 2013 09:02
We will hold our annual meeting on Martin Luther King, Jr's Day on Monday, January 20, 2014 at The Baseball Tavern, right near Fenway Park. (Also see SABR Day 2014)
DATE: Monday, January 20, 2014
TIME: 10:30AM to 5 PM
LOCATION: The Baseball Tavern
1270 Boylston Street, Boston, MA (map)
Presentations starts at 11 am. (Check back here for updates!):
John Farrell is the current manager of the 2013 World Series Champion Boston Red Sox.
Peter Gammons, a recipient of the
J. G. Taylor Spink Award
for outstanding baseball writing, needs no introduction to the SABR community. You have seen his work in The Boston Globe, ESPN, NESN, as well as on the MLB Network and as a rock star at Hot Stove Cool Music. He once opened for Buddy Guy. Follow him on twitter at
@pgammo
Tommy Harper is a former All-Star who had a 15-year MLB career. He played with the Red Sox from 1972-1974 and later served as a coach from 1980–84 and 2000–02. Currently with the team as a player development consultant, he was elected to the Boston Red Sox Hall of Fame in 2010. Harper twice led the American League in stolen bases, and his career 408 steals rank him 61st on the all-time list.
Dan Brooks, founder of
brooksbaseball.net
will talk about PITCHf/x. PITCHf/x is a pitch tracking system, and is installed in every MLB stadium. This system tracks the velocity, movement, release point, spin, and pitch location for every pitch thrown in baseball, allowing pitches and pitchers to be analyzed and compared at a detailed level. At BrooksBaseball.net, you can explore individual pitchers every pitch going back to around 2007. Dr. Dan Brooks is a postdoctoral fellow in neuroscience at Brown University, where he studies the neural circuitry of visual attention. He is also an author of Baseball Prospectus.
Adam Darowski created a website, Hall of Stats (
HallOfStats.com
): An alternate Hall of Fame populated by a mathematical formula, and his poster presentation at SABR 43 in Philadelphia last year was well received. The Hall of Stats shows us what the Hall of Fame would look like if we removed all 208 inductees (plus this year's new inductees) and replaced them with the top 208 eligible players in history, according to his version of stats combining Wins Above Average (WAA) and Wins Above Replacement (WAR)
More will be forthcoming about the meeting agenda as plans unfold.
Be sure to be subscribed to SABR Nation's Boston Chapter group, and you will get latest info emailed to you.
SABR membership is not required to attend this meeting (though we highly recommend you join). A lunch buffet is available for $10 per person, and a $10 donation is humbly requested to defray our financial obligations, we thank you in advance for your understanding.
If you have not been to a meeting at The Tavern, be advised that it is located one block from Fenway Park. There are parking lots in the area, and meter parking all along Boylston St. In front of the Tavern is free for the holiday. It is otherwise advised to take public transportation as the best way to get there. The Tavern is nearest the Kenmore or Fenway stations on the Green Line.
Last Updated on Thursday, 16 January 2014 12:05
SABR Day 2014: January 25 at McGreevy's
Written by Joanne Hulbert, David Laurila, and Daigo Fujiwara
Tuesday, 31 December 2013 14:11
SABR Day will be held on Saturday, January 25, at McGreevy's, 911 Boylston Street. If you can't make it to the Monday meeting, here's your second chance!
On this day, we will present our latest publication, "New Team, New Century - The 1901 Boston Americans." As many contributors to the book are urged to attend and we will have a discussion, signing, and a totally good time. Peter Nash, one of the contributors to the book, and a principal of McGreevy's will be there. If you haven't seen the book yet, you are in for a treat. And if you haven't been to McGreevy's yet, that's another treat, as McGreevy's is billed as a baseball museum, a replica of McGreey's Third Base Saloon ("the last place before going home") is loaded with baseball memorabilia and they do know how to pour a McGuinness properly! Meeting time will be announced as soon as details are finalized.
SABR Day is an annual event that brings together SABR members and friends on the same day, regardless of where they live. The fifth annual SABR Day is scheduled for January 25, 2014.
Regional SABR meetings are open to all baseball fans — though we encourage you to join SABR if you like what you find — and are usually free to attend. Guest speakers often include current and former baseball players, managers, umpires, executives, scouts, writers and authors.
See Boston Cpater's past SABr Day activities
Last Updated on Tuesday, 31 December 2013 14:26
The book is out: OPENING FENWAY PARK IN STYLE: THE 1912 CHAMPION RED SOX
Written by Daigo Fujiwara
Tuesday, 15 May 2012 21:02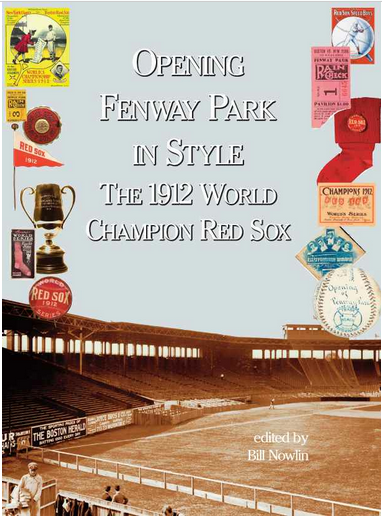 The book is out!!
OPENING FENWAY PARK IN STYLE: THE 1912 CHAMPION RED SOX is now available via several venues. Much anticipation has preceded the announcement of the Boston Chapter's own contribution to the celebration of Fenway Park's 100th anniversary. The book is a compilation of many contributors from the Boston Chapter and is the latest in a long list of books about Boston baseball. But there's something new with this edtion: the book is available in new formats.
It is live in the Kindle and Nookstores, and will be live in paperback at Createspace in about one week. It will be available on Amazon any day now.
Here are all the links and info so far:
Opening Fenway Park With Style: The 1912 Champion Red Sox
Edited by Bill Nowlin
Associate editors Dan Desrochers, Len Levin, Maurice Bouchard
$19.95 paperback, $9.99 ebook
Print ISBN 978-1-933599-35-9
Ebook ISBN 978-1-933599-36-6
Now on sale at:
Get your copy today, it is now easier than ever to own the newest addition to Fenway Park history. (SABR members: check in SABRNation's Boston Chapter announcement section for special member discount.)
Last Updated on Tuesday, 15 May 2012 21:14