POSTPONED: 2013 Boston Chapter Fall Meeting
Written by Joanne Hulbert, David Laurila, and Daigo Fujiwara
Friday, 25 October 2013 07:11
The meeting is postponed as the Boston Red Sox victory parade is scheduled on the same day. Stay tuned for future announcement here on this website, or join SABR and register yourself with the Boston Chapter.
We will hold our annual fall meeting on Saturday November 2, 2013 at The Non-Profit Center near South Station.
DATE: Saturday November 2, 2013,
LUNCH AND SOCIAL: 11 a.m. - 12:45 p.m.
South Station's cafeteria just behind and above Regina on the "mezzanine" area
PRESENTATIONS: 1 p.m. - 5 p.m.
The Non Profit Center,


89 South Street, Boston, MA
SABR membership is not required to attend this meeting (though we highly recommend you join). A $10 donation is humbly requested to defray our cost of the accommodations and other expenses required to bring the Chapter Meeting to you.
Presentations:
Dan Brooks, founder of brooksbaseball.net will talk about PITCHf/x. PITCHf/x is a pitch tracking system, and is installed in every MLB stadium. This system tracks the velocity, movement, release point, spin, and pitch location for every pitch thrown in baseball, allowing pitches and pitchers to be analyzed and compared at a detailed level. At BrooksBaseball.net, you can explore individual pitchers every pitch going back to around 2007. Dr. Dan Brooks is a postdoctoral fellow in neuroscience at Brown University, where he studies the neural circuitry of visual attention. He is also an author of Baseball Prospectus.
Skip Lockwood, a former right-handed pitcher who played in MLB for 12 seasons, will be attending the meeting. Skip was born in Roslindale, MA, and grew up in Massachusetts. Skip debuted with the Seattle Pilots in 1969, played for Milwaukee Brewers, California Angels, New York Mets and finished his career with the Boston Red Sox in 1980. A detailed biography of Skip written by Bill Nowlin is available at Bioproject: http://sabr.org/bioproj/person/1c20f787
Michael Rutstein, publisher of Boston Baseball will be tell us stories about his independent baseball magazine that he has been offering outside Fenway for 25 years. Publications like his are surprisingly rare around MLB ballparks. He'll tell of the challenges of competing (and doing so very well) with the franchise-owned media.
Also:
Malloy Negro League Conference reports by Jay Hurd.

Trivia contest by Mark Kanter.

Ty Waterman is seeking a Great American Fantasy League manager.

Boston World Series discussion

and more!
The Non Profit Center is located conveniently near South Station on the Red Line. Directions from the station are: exit out to Atlantic Avenue. Across the street you will see One Financial Center with a Starbucks on the ground floor. Head in that direction. Walk left along the sidewalk (either side of Atlantic Ave.) to the intersection with Essex Street. You will be walking between One Financial Center and Two Financial Center on Essex. South Street is one block on the left. The NPC is marked with banners at #89. Enter, and the Security guard will direct you to the Community Room beyond the Security Desk.
MBTA is recommended. There is a parking garage at Two Financial Center, practically next door.
Last Updated on Thursday, 31 October 2013 11:54
Mark your calendars: Fall meeting is on November 2, 2013
Written by Joanne Hulbert, David Laurila, and Daigo Fujiwara
Monday, 23 September 2013 08:46
PLEASE NOTE: THIS MEETING HAS BEEN POSTPONED
Mark your calendars! the Boston Chapter will be holding their Fall Meeting, and we anticipate, our Post-World Series Celebration on Saturday November 2, 2013, at The Non Profit Center, 89 South Street, Boston.
Many of our members who have attended meetings here are accustomed to the travel advisements, but here's something new: The bad news is that Clarke's at South Station, our usual pre-meeting, lunch place at South Station has closed.
BUT: the GOOD news is that diagonally across from that location is a small cluster of "purveyors of fine Boston cuisine" including Cosi Cosi (Italian) CajunCajun (yup cajun) along with a vendor of Chinese food that looks really good, and, McDonalds for the less sophisticated gourmand AND Pizzeria Regina!! There is a large area just behind and above Regina on the "mezzanine" with many tables where we can meet and eat - and also begin our talk about baseball and reflect upon Boston's magnificent season. Also, due to South Station's liberal hours, we can meet at 11 AM! instead of 11:30.

But enough about the food. The Chapter lead group is working diligently on the program, and we are encouraged by the responses we have received so far about the lineup of speakers. As the agenda is filled, we will send out updates. In particular we are working diligently to sign up a certain speaker that we have been pursuing for a long time, and once we receive an acknowledgement that he can be at the meeting we will announce it. No use jinxing it just yet.

Stay tuned, and pray the snow holds off this year.
Last Updated on Thursday, 31 October 2013 11:55
The Gibson House Museum meeting, April 29, 2013
Written by Daigo Fujiwara
Tuesday, 19 March 2013 19:30
Monday, April 29, 2013

5:30 pm

The Gibson House Museum,

137 Beacon Street, Boston, MA (

map

)
SABR Boston have been invited back for an encore: The Gibson House and SABR will meet again on Monday evening, April 29, 2013 - Reception at 5:30 pm, lecture at 6:30 pm. at 137 Beacon street.
The program will include presentations from Bill Nowlin, Donna Halper, Joanne Hulbert and others and will stir up a marvelous nostalgic and thought-inspiring stew of history - Boston, baseball, history and legend - what could be better than that!
Tickets are $15 in advance, $20 at the door. Special $10 for members of Gibson House, for SABR , and Boston Braves Historical Society members. The proceeds to benefit the preservation of the Gibson House Museum.
2nd Annual Boston Baseball Hack Day, March 30, 2013
Written by Daigo Fujiwara
Friday, 01 March 2013 00:00
Saturday, March 30, 2013

9:30 AM to 7:00 PM

41 Winter St, 7th floor, Boston, MA (

map

)
Are you a web developer, designer, or a programmer who is interested in baseball? Or a passionate baseball fan with ideas?
SABR Boston Chapter and Hacks/Hackers Boston have teamed up again, and hosting Boston Baseball Hack Day on March 30, 2013. Boston Baseball Hack Day is the second annual hacking event where area baseball minds come together, form a team, and collaborate to create baseball-related project and bring an idea to life. The goal of the day is to bring creative minds into one room and see what they can produce within a limited time. The project could be (but is not limited to) a tool, simple web app, website, or data visualization. See what we did in 2012 to get an idea.
It is also a great opportunity to network and socialize among like-minded people. Projects will be judged by area experts, and a brief awards ceremony (with prizes courtesy of our sponsors) will conclude the program.
At the end of the day, projects will be judged by area experts, and a brief awards ceremony will conclude the event.
Baseball Hack Day is a free event thanks to the generosity of our sponsors.Registration is required and seating is limited. For more, go to
baseballhackday.com
Boston Chapter meets under the bleachers at Fenway (RECAP: 2013 SABR Day)
Written by Joanne Hulbert
Monday, 28 January 2013 14:38
On a cold and windy day - 24 degrees and 11 degrees wind chill, (no walk of infamy this year) - ten stalwart souls met for lunch to celebrate SABR Day at the Bleacher Bar, located under the bleachers at Fenway Park, a warm and inviting atmosphere affording us a panoramic view of Fenway Park in winter. 4th Annual Boston SABR Day January 26, 2013
Not only were are hearts warmed up by the view but we were also serenaded by the voices of hopeful public address announcers vying for the job to replace the late Carl Beane. We were all in agreement that none were worthy. The main topic of discussion during lunch was the recently published Francona, The Red Sox Years. The discussion was hot, the stove was hot, the food was hot. Only the beer was cold.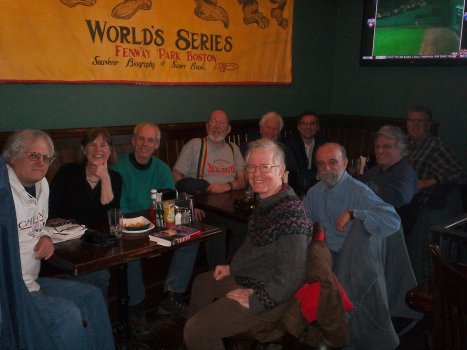 <<

Start

<

Prev

1

2 3 4 Next > End >>


Page 1 of 4