The Gibson House Museum meeting, April 29, 2013
Written by Daigo Fujiwara
Tuesday, 19 March 2013 19:30
Monday, April 29, 2013

5:30 pm

The Gibson House Museum,

137 Beacon Street, Boston, MA (

map

)
SABR Boston have been invited back for an encore: The Gibson House and SABR will meet again on Monday evening, April 29, 2013 - Reception at 5:30 pm, lecture at 6:30 pm. at 137 Beacon street.
The program will include presentations from Bill Nowlin, Donna Halper, Joanne Hulbert and others and will stir up a marvelous nostalgic and thought-inspiring stew of history - Boston, baseball, history and legend - what could be better than that!
Tickets are $15 in advance, $20 at the door. Special $10 for members of Gibson House, for SABR , and Boston Braves Historical Society members. The proceeds to benefit the preservation of the Gibson House Museum.
2nd Annual Boston Baseball Hack Day, March 30, 2013
Written by Daigo Fujiwara
Friday, 01 March 2013 00:00
Saturday, March 30, 2013

9:30 AM to 7:00 PM

41 Winter St, 7th floor, Boston, MA (

map

)
Are you a web developer, designer, or a programmer who is interested in baseball? Or a passionate baseball fan with ideas?
SABR Boston Chapter and Hacks/Hackers Boston have teamed up again, and hosting Boston Baseball Hack Day on March 30, 2013. Boston Baseball Hack Day is the second annual hacking event where area baseball minds come together, form a team, and collaborate to create baseball-related project and bring an idea to life. The goal of the day is to bring creative minds into one room and see what they can produce within a limited time. The project could be (but is not limited to) a tool, simple web app, website, or data visualization. See what we did in 2012 to get an idea.
It is also a great opportunity to network and socialize among like-minded people. Projects will be judged by area experts, and a brief awards ceremony (with prizes courtesy of our sponsors) will conclude the program.
At the end of the day, projects will be judged by area experts, and a brief awards ceremony will conclude the event.
Baseball Hack Day is a free event thanks to the generosity of our sponsors.Registration is required and seating is limited. For more, go to
baseballhackday.com
Boston Chapter meets under the bleachers at Fenway (RECAP: 2013 SABR Day)
Written by Joanne Hulbert
Monday, 28 January 2013 14:38
On a cold and windy day - 24 degrees and 11 degrees wind chill, (no walk of infamy this year) - ten stalwart souls met for lunch to celebrate SABR Day at the Bleacher Bar, located under the bleachers at Fenway Park, a warm and inviting atmosphere affording us a panoramic view of Fenway Park in winter. 4th Annual Boston SABR Day January 26, 2013
Not only were are hearts warmed up by the view but we were also serenaded by the voices of hopeful public address announcers vying for the job to replace the late Carl Beane. We were all in agreement that none were worthy. The main topic of discussion during lunch was the recently published Francona, The Red Sox Years. The discussion was hot, the stove was hot, the food was hot. Only the beer was cold.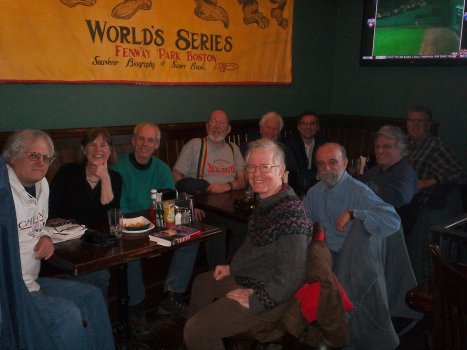 RECAP: 2013 MLK Day meeting, January 21
Written by Joanne Hulbert
Thursday, 24 January 2013 10:27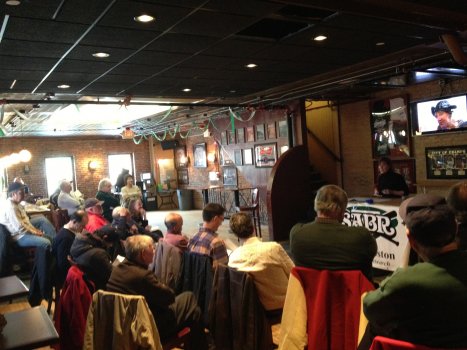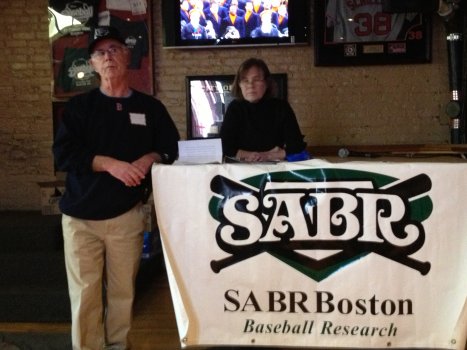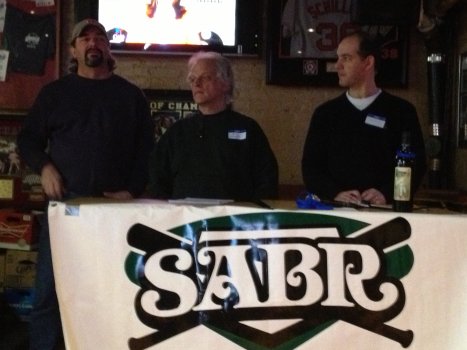 A gathering of 42 met at The Baseball Tavern in Boston for the Boston Chapter's annual MLK Day meeting, January 21 (2013 MLK Day meeting on Jan. 21, 2013), and although the Presidential Inauguration occurred simultaneously ( the video display did display the event as an aside in the room for those inclined to experience the presentations and the national event). We got a lot done! the agenda was packed with presentations on a variety of subjects.

Reports and announcements were heard from Father Beirne, Bob Brady of the Braves Historical Association, Herb Crehan, who has started the the website -www.bostonbaseballhistory.com. Check it out! Ty Waterman spoke about the GAFL, and Bob Ruzzo brought us up to date on the latest news about Braves Field at Boston University.

Alan Cohen spoke about the Hearst Sandlot classic, an event unknown to many attendees. Donna Halper also educated us well with a presentation on "The Loyal Ladies of Baseball - Female Fans and Sports Writers, 1900 - 1940." A lot of new information was presented in a very lively manner.

The recent ballot for the Hall of Fame vote was distributed to the attendees and a vote was taken a vote that paralleled the official vote and a discussion was entertained by Andy Andres, Bill Nowlin and Saul Wisnia. As expected, there were many opinions expressed.

The Emerson College students, who had told us about their film project last year, brought their finished product to us for viewing. A great accomplishment! Congratulations to them for a fine film!

Our next event comes up soon after the annual gathering. The SABR Day event on Saturday, January 26, will be held at the Bleacher Bar, Landsowne Street, located underneath the bleachers at Fenway Park, at 1:30 PM. We will be primarily discussing the newly published book, Francona. Already there's a lot of buzz in the media, and we will create some buzz of our own. Come by for lunch, or just to talk about the book. There's copies available at the Barnes & Noble at Kenmore Square, but I hear copies are flying off the shelves.

For more information,
contact me,

Joanne Hulbert
Last Updated on Saturday, 26 January 2013 19:35
RECAP: Chapter Meeting November 10, 2012
Written by Joanne Hulbert and David Laurila
Monday, 26 November 2012 05:08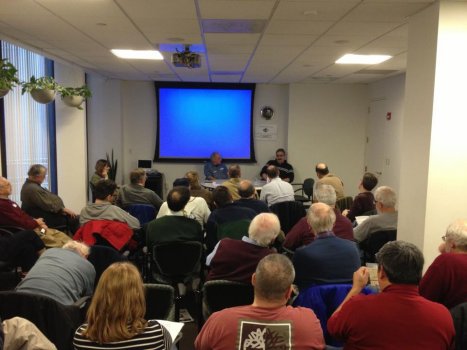 Room at the Non-Profit Center was full for the SABR Boston November meeting.
The weather cooperated this time and we managed to miss the hurricane and the nor'easter and we were greatly rewarded with a lively, informative and entertaining meeting yesterday. Mike Shalin, official scorer and co-author with Dennis Boyd of "They Call Me Oil Can" gave us one of the most memorable presentations we have experienced. The sad news was that The Can was called away by a family emergency, he sent his regrets and promises to meet with us in the near future - we will try for our traditional MLK Day meeting in January, so we have a second chance.
Also, presentations by Bob Brady on the Braves , a panel discussion about our latest publication Red Sox in the Days of Ike and Elvis, Saul Wisnia and his search for 2004 memories, and, a little more than you may have wanted to know about Hi Hi Dixwell, filled the afternoon. Despite our disappointment that The Can couldn't be there, we very much appreciated Mike Shalin's heart-rending tales of the Official Scorer.
We look forward to having him again for 'further tales' along with Oil Can in January.
from
Joanne Hulbert
and
David Laurila
co-chairs, Boston Chapter.
Related: SAVE THE DATE: November 10, 2012
Last Updated on Wednesday, 26 December 2012 05:28